KKR, Blackstone, Apollo Hauled In $71 Billion Amid Tough Market
(Bloomberg) -- KKR & Co., Blackstone Group LP and Apollo Global Management LLC posted strong fundraising results in a volatile quarter.
KKR hauled in $11.3 billion in the fourth quarter, while Blackstone and Apollo collected $38.6 billion and $21.6 billion, respectively, showing that the appetite for their longer-term strategies remains robust. Shares of KKR rose as much as 6.3 percent Friday following gains for rivals.
Read more: KKR's Profit Beats Expectations as Fees Shine in Stormy Markets
"I think the LPs take a longer-term perspective," Scott Nuttall, KKR's co-president, said on a conference call Friday after the firm reported financial results. "The general view is that we're entering a lower-return environment for the markets more broadly. In that context, we have a lot of discussions around clients feeling like they are going to need more alternatives, not less, in order to hit their targets."
The outlook for industry fundraising was also brought into focus by Blackstone President Jon Gray, who said on a conference call on Thursday that his firm would raise about $100 billion this year. That's just shy of its 2017 record. Investors anticipate that buyout firms may put more of that capital to work this year now that asset prices have dropped.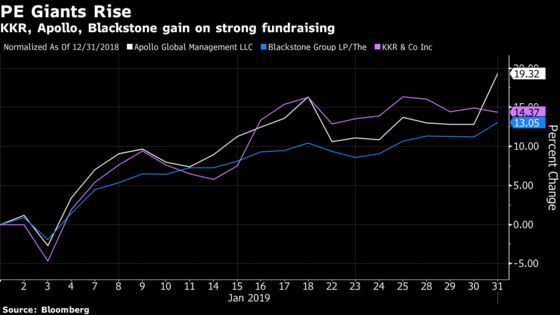 KKR reported a profit gain fueled by private equity fundraising and higher fees. Profits at Blackstone and Apollo suffered in a quarter that saw the S&P 500 Index sink the most in seven years.
Blackstone reported a 40 percent drop in distributable earnings, a metric the firm began using last quarter that reflects cash profits on asset sales and management fees. Apollo posted a loss in economic net income, which reflects both realized and unrealized gains, of $1.01 a share. That was its biggest quarterly loss in eight years.
The private-equity portfolios of Blackstone and Apollo took a beating. Annuity seller Athene Holding Ltd., the largest asset on Apollo's balance sheet, slid 23 percent in the fourth quarter. Blackstone's losers included Invitation Homes Inc. and Gates Industrial Corp.
Those investments are now looking better. They have already made up some of the losses during the market rebound in January.
KKR executives said Friday that the firm will continue to be active in fundraising this year, especially across European private equity and credit and impact and energy investments. It's also raising money for Asia equity and U.S. credit strategies, they said.
On its earnings call, Blackstone, the world's largest alternative asset manager, was bullish about its fundraising. The New York-based firm plans to exceed $20 billion for its flagship private equity pool. It also has raised $7 billion so far for its infrastructure vehicle and plans to start raising money for a debut life sciences fund later this year.