Blackboard Debt Takes a Hit After Colleges Drop Its Education Software
(Bloomberg) -- Blackboard Inc. was already having a tough year when Chief Executive Officer William Ballhaus got word in April that Cornell University -- the company's very first customer -- was defecting to a rival education software service.
"Almost all of our peer institutions have moved to Canvas," Cornell said on its website, adding that Canvas was easier to use and more technologically advanced, based on its year-long review beginning in the autumn of 2016. During that year, Blackboard's market share fell to 28 percent from 31 percent, while Canvas rose to 21 from 17 percent, Cornell found. Once in the vanguard, Blackboard had stopped innovating and fallen behind, the university said in its subsequent report.
Contract losses have sent Blackboard's revenue and earnings sliding, according to people with knowledge of the matter, making it harder to carry more than $1.3 billion of rated debt. With some of Blackboard's bonds selling at deeply distressed levels, Ballhaus is crafting a comeback, and possible options include the sale of its payment processing division, said the people, who asked not to be identified because the discussions are private.
Blackboard, which is owned by private equity firm Providence Equity Partners, brought in legal and financial advisers from Weil Gotshal & Manges LLP and financial advisory firm Lazard Ltd. to help it manage its debt load, the people said. Representatives at Lazard and Providence declined to comment; Weil Gotshal didn't respond to a message seeking comment. Some elements of the plans were previously reported by Debtwire.
A Blackboard representative said the private company doesn't comment about advisers, divestments and capital structure. Ballhaus said via email that the number of clients planing to adopt its newer systems is growing, and that while its core learning management systems or LMS remain important, Blackboard offers a broader range of solutions than its rivals.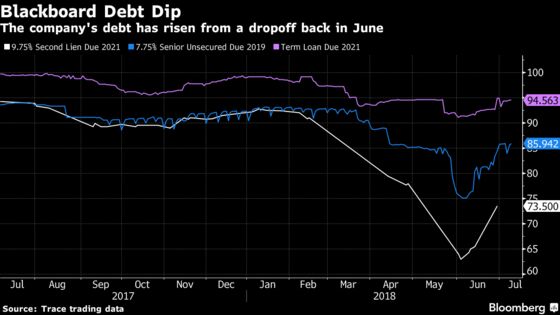 Washington-based Blackboard provides grades K-12 and higher education institutions with web-based course material for students and teachers. Its array of debt includes a $135 million first-lien revolver with about $81 million outstanding, a $917 million term loan due in 2021 and about $377 in second-lien notes, according to the people and Bloomberg data. The junior-lien notes due 2021 trade at 73 cents on the dollar and yield topping 20 percent.
Blackboard's management earnings before interest, taxes, depreciation and amortization fell 15 percent for the quarter ended March 31 from a year earlier, and product revenue slipped to around $154 million from $157 million, according to the people. Management Ebitda for the 12 months ended March 31 was $174.2 million, they said.
The company "is in a position now where they need to re-capitalize," or at the very least "sell off part of the business to pay down some debt," Michael Feldstein of MindWires LLC, who advises LMS customers, as well as vendors including Blackboard. The payments business "would be the obvious choice" to divest, Feldstein said. "It's profitable, a solid stand-alone business, and it's not in any way related to its core brand business of teaching and learning."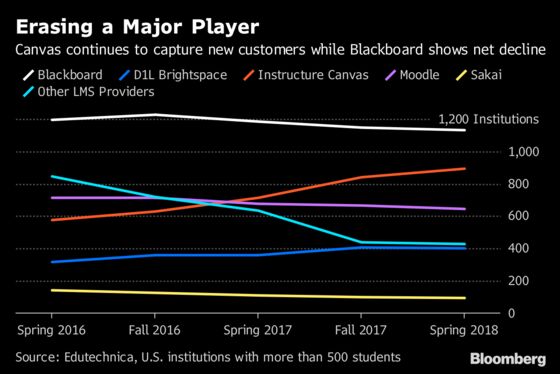 S&P Global Ratings downgraded Blackboard last month to CCC+ because of high leverage and declining LMS revenue, saying there's "limited time to turn around its business" before maturities in 2019 and 2020.
Blackboard had been a market darling a decade ago when it was a fast-growing public company. Providence paid $1.64 billion to buy it in 2011; the founding management team led by Michael Chasen departed in 2012, and Ballhaus stepped into the CEO role in January 2016. He's held leadership positions in government and technology companies including SRA International Inc. and DynCorp International Inc.
The comeback includes a new Ultra interface, the next generation of its learning software, and Blackboard's "software as a service" or SaaS model, a centrally hosted system that manages upgrades, patches and other maintenance tasks. Ballhaus said in a blog post on June 5 that more than 50 clients are running Ultra with "dozens more" coming in the second half. As for SaaS, 367 clients switched already, and those planning to move this summer increased 70 percent from the cohort that moved in the spring, Ballhaus said in an email to Bloomberg.
"Our clients are dealing with a range of issues in this rapidly changing education market, and many of those are quite complex," he wrote. "An LMS is certainly one of the tools to help address them, but there's so much more necessary to solve the broader challenges."
By some accounts, the moves may be too late. Blackboard rested on its laurels for years and didn't have the infrastructure to respond quickly to customer requests, said James Wiley at Eduventures Inc., which tracks data on the higher education market.
Blackboard remains the largest global learning management system provider by both revenue and market share, according to the company. Canvas has surpassed Blackboard in the U.S. higher education market, according to data from e-Literate, the publishing arm of MindWires. As of July 6, Canvas had 1,218 active LMS installations, two more than Blackboard.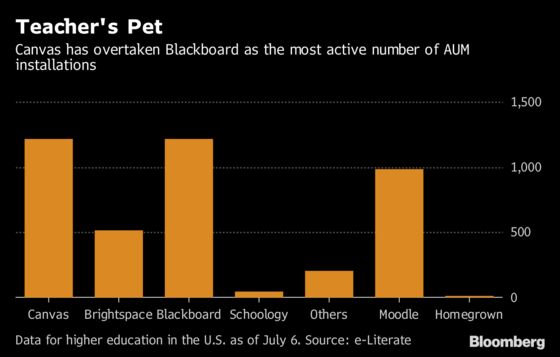 The University of North Carolina, Chapel Hill, left Blackboard in 2013 for Sakai, which was funded in part by grant money and has no annual license fee. Suzanne Cadwell, UNC's director of information technology, said Sakai's open-source software was a big part of its appeal.
"The ability for us to make modifications to the system as needed was very important," Cadwell said. "Students and teachers are bringing certain expectations with the technology they use in their everyday lives, and that's driving the direction of where these systems are headed."
It also costs less. When UNC evaluated its system in 2006, it was spending around $550,000 annually to run Blackboard, Cadwell said. After the switch, it got greater functionality at a lower cost. Matthew Rascoff, who jointly manages Duke University's LMS, said Duke's switch to Sakai from Blackboard around 2012 was similarly motivated by cost savings and flexibility.
"It is about value, but it's also about controlling our own destiny," he said.