Leon Black's Apollo Sues Former Employees
(Bloomberg) -- Leon Black is proving once again he's not someone to cross.
The buyout mogul who created Apollo Global Management Inc. is suing two former employees of Athene Holding Ltd., claiming they covered up efforts to help an ex-partner start a rival firm.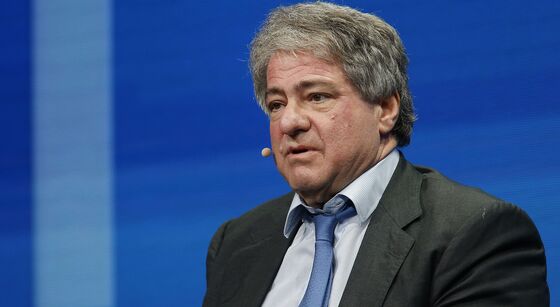 The lawsuit is another chapter in a long-running tussle Black has had with former executive Imran Siddiqui. And it's further evidence that Black prizes loyalty -- and will go to considerable lengths to protect the firm he founded from those who depart.
The latest suit, filed Friday, is against Stephen Cernich and Huan Tseng, formerly of Athene, an insurer that's become Apollo's cash cow. In Friday's lawsuit, Apollo claims that they "substantially" assisted and actively hid fraud and misconduct by Ming Dang and Siddiqui.
Siddiqui left Apollo in mid-2017 to start Caldera Holdings, a
potential competitor. Cernich and Tseng helped him and Dang conceal their involvement in Caldera in numerous ways, Apollo said, such as scrubbing traces of them from documents and using alternative email accounts.
Apollo says in the lawsuit that Cernich and Tseng knew Siddiqui and Dang were using confidential information for the benefit of Caldera, approaching investors to put their money into Caldera and competing for acquisition targets.
While Apollo won a $1.2 million arbitration award against Dang and Siddiqui, who denied the allegations, in April 2019, Black's firm is going after the men he thinks helped them out.
"Apollo's latest is part of the same tired anti-competitive playbook it has used for years to effectively manipulate the market -- acts for which it should be held to account," Lisa Solbakken, a lawyer for Cernich, said in an email. "Mr. Cernich will be vindicated by Apollo's own documents and witnesses."
Tseng couldn't be reached for comment.
Apollo established Athene in 2009 and built it into one of the top fixed-annuity providers in the U.S. In 2016, the insurer raised $1.08 billion in an initial public offering.
Athene has become an essential fixture in Apollo's financial apparatus. It has also made Apollo the envy of private equity rivals, who have since tried to build up their own insurance businesses.
Siddiqui, an architect of Athene, struck out on his own in mid-2017 with some of its staff and sought to raise money. Apollo sued Siddiqui soon after, saying he had violated noncompete agreements. The two parties settled.
In June 2018, Apollo sued Siddiqui again, for allegedly stealing trade secrets. One month later, Siddiqui countersued, accusing Apollo and Athene of colluding to harm his new business.
The case is Apollo Global Management Inc. v. Cernich, 20-cv-864, U.S. District Court, Southern District of New York (Manhattan).