Black Friday Is Already Here as Retailers Kick Off Holiday Sales
(Bloomberg) -- Don't look now, but Black Friday's already begun.
Walmart Inc. and Best Buy Co. are among the big retailers to unveil holiday deals Thursday on products like ultra-high-definition smart televisions, laptops and gaming consoles. Amazon.com Inc. is also touting its Black Friday discounts early, while Target Corp. will roll out offers on home decor and bedding this weekend.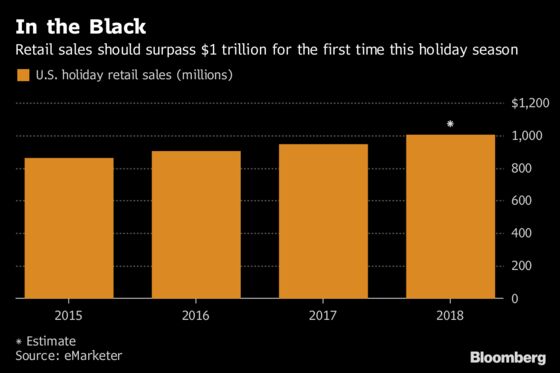 The frenzy shows the rules are changing as retailers prepare to battle for what could be the strongest holiday period in years -- fueled by robust consumer confidence and low unemployment. Retail sales increased 6.1 percent in the week ended Nov. 3, providing additional momentum for U.S. chains that are dangling free shipping and other enticements to grab bargain-seeking early shoppers.
Holiday sales are seen increasing 5.8 percent this year and surpassing $1 trillion for the first time, according to researcher eMarketer.
Black Friday -- the day after the U.S. Thanksgiving holiday -- traditionally marks the start of the holiday shopping season.