Black Friday Comes to London Apartments With $64,000 Discounts
(Bloomberg) -- Forget TVs and smart speakers, now homebuilders are offering cut-price Black Friday deals on London apartments too.
"Unmissable deals on every home at Highgate Court worth up to 50,000 pounds," trumpets a listing by Bellway Plc on property website Rightmove. The discounts are available this weekend for the properties in the upmarket neighborhood of Highgate and prices start at 699,995 pounds ($898,627) for a two-bed apartment.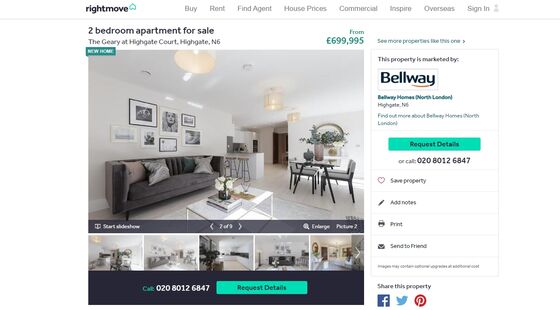 Developers in London face a tough time finding buyers as taxes, fears of a housing market crash and economic uncertainty weigh on demand. The stock of completed but unsold homes has risen by almost 50 percent this year, according to data compiled by Molior London.
The homes are about a 15-minute walk from Highgate Cemetery, where Karl Marx and Hitchhikers Guide to the Galaxy author Douglas Adams are buried. A representative for Bellway declined to comment.