Black & Decker Plunges as 'Reality Check' Leads to Gloomier Outlook
(Bloomberg) -- Stanley Black & Decker Inc. became the most recent manufacturer to warn investors about a global economic slowdown as the company forecast profit that missed analysts' estimates. The stock tumbled the most since at least 1980.
The maker of power and hand tools, which counts Lowe's Cos. and Home Depot Inc. as its largest customers, said earnings this year would be as much as $8.65 a share, missing an average projection of $8.80. The company, which has a long-term organic sales growth target at 4 percent to 6 percent, noted that 2019's performance would be at the bottom of that range.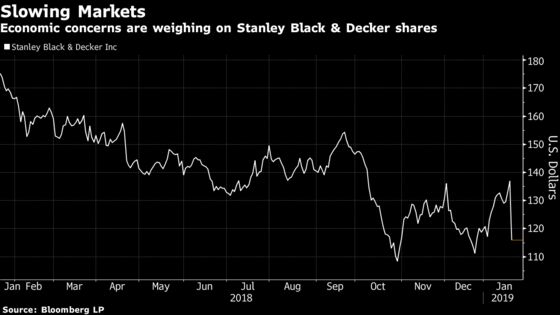 "Baked into our guidance is a reality check on slowing markets," Chief Executive Officer Jim Loree said Tuesday on a call with analysts. "It's not catastrophic. It's nothing that we can't handle."
The company's shares closed at $115.69. It was the second worst one-day performer in the S&P 500 Index, after Arconic Inc., which fell sharply after the board decided not to sell the aerospace and auto parts company.
Loree called out the slowing construction markets in the U.S., saying that rising interest rates started weighing on sales in the third quarter. China and most of Europe are also stalling, he said. India had been one of the few bright spots. He said that "reality is setting in" for Black & Decker and its competitors.
The company's less-bullish outlook has weight because its business spans several industries, from commercial security systems to engineering fasteners and power tools used by homeowners and construction companies. Plus, about half its revenue comes from outside the U.S.
The toolmaker joins other companies in raising global economic concerns this earnings season. Ford Motor Co. and PPG Industries Inc., a paint and chemicals company, warned of slowing growth last week. And on Tuesday, Johnson & Johnson, the world's largest maker of health-care products, said sales gains could slow or halt this year. More bellwethers of consumer and industrial activity report earnings this week, including Procter & Gamble Co., Colgate-Palmolive Co. and Starbucks Corp.
Stanley Black & Decker executives are already facing headaches from the U.S.-China trade dispute -- tariffs cost the company $100 million last year -- and rising commodity costs. The latest hurdle to appear is the fading recovery in the U.S. economy following the financial crisis, which has underpinned the company's growth for almost a decade. Loree said the investment the company has made in technology and acquisitions, such as buying Craftsman, will help cushion that blow.
"As we enter 2019, the external challenges don't magically disappear; however, we are well prepared and positioned to tackle them," he said. "In addition, there are signs that the global economic growth is slowing, and that the U.S. economy may soon be coming to the end of one of the most enduring recoveries in U.S. history."