Biweekly $0.00 Paystubs an Unwelcome Memento For Federal Workers
(Bloomberg) -- Government shutdowns are new for Kate Noland, who has worked as a law clerk at the Superior Court of the District of Columbia for only eight months and was counting on the salary to replay loans for law school.
Her last paycheck arrived with a jarring figure: $0.
"I knew it was coming but it definitely hurt," she said outside of a Washington sandwich shop that was offering free lunch to federal workers because of the partial government shutdown.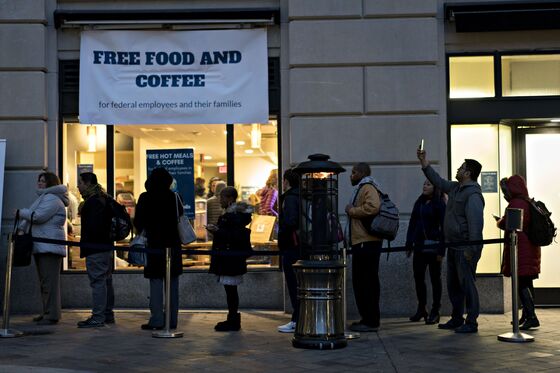 For 800,000 federal workers suddenly getting no pay, the idea of receiving a zero-dollar pay statement every other week seems an unnecessary indignity on top of the stress and financial turmoil of the shutdown, which began Dec. 22. Many went to social media to vent their frustration.
"Never mind the normal stress of thousands of lives in your hands at any given moment, but to add this...." air traffic controller Jeffrey Plendl tweeted, along with a screenshot of his pay statement that showed net pay of $0.00.
The U.S. Office of Personnel Management didn't respond to a request for comment on why the agency is bothering to send out statements with no money.
"It's not intended to be an insult, even though it is," Steve Lenkart, director of the National Federation of Federal Employees said. "Oddly enough it will probably prevent a delay in processing checks when it reopens."
Richard Kennington, president of the Portland, Oregon, local of the National Air Traffic Controllers Association, said he saw one person's paycheck for 6 cents.
"I can guarantee everyone will get zero next week," he said.