Pimco and Franklin Are Filling Holes With Bite-Size M&A
(Bloomberg) -- Money managers want to get bigger. They just want to do it a bit at a time.
Firms including Pacific Investment Management Co., Prudential Financial Inc. and Franklin Resources Inc. are focusing on modest-sized acquisitions to fill holes in their product lineups or widen their customer base as they fight to keep customers from fleeing active funds. Their executives won't rule out mega-deals, but they're increasingly wary of the hazards that can come when two giants combine.
"Large acquisitions are very difficult," Franklin Chief Executive Officer Gregory Johnson said on an Oct. 25 conference call after his firm agreed to buy private-credit specialist Benefit Street Partners. "There is a lot of risk in them, I think, in just the brand and who you are as a firm."
The public's shift to passive investing, pressuring fees and profit margins, has made consolidation within asset management a logical, if not imperative, solution. There's just one hitch: Those trying it on a big scale lately have met with mixed results at best. Janus Henderson Group Plc and Standard Life Aberdeen Plc, two firms that emerged from multibillion-dollar combinations last year, have seen outflows and falling stock prices in 2018.
"People are asking, 'Do you get a better bang for your buck with small, targeted acquisitions, where you can expand into faster-growing, high-fee products with less integration risk?' " said Morgan Stanley analyst Michael Cyprys.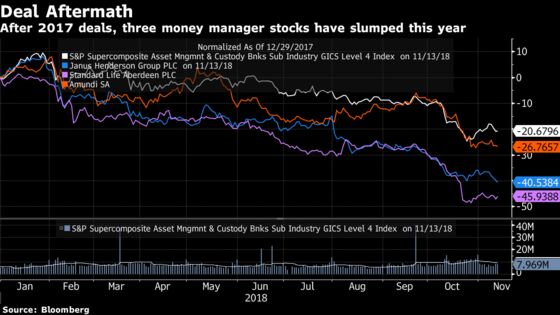 Prudential's money management arm, PGIM, said Tuesday it is buying Wadhwani Asset Management, a $1.4 billion London-based quant shop, as part of a push to expand globally. Pimco, a unit of Allianz SE, struck a deal last month to buy Gurtin Municipal Bond Management, which handles $12 billion in munis for high-net-worth clients. Allianz executive Jackie Hunt recently said the German insurance giant is looking for other "bolt-on acquisitions."
UBS Group AG is weighing acquisitions and joint ventures for its asset-management business, but the Swiss bank is unlikely to make any single very large purchase, people with knowledge of the matter said last month. AllianceBernstein Holding LP CEO Seth Bernstein told analysts in October that his firm doesn't "need additional scale" but is on the lookout for deals enabling it to "plug new products and services into our global distribution network."
The most popular targets these days, according to Morningstar Inc. analyst Greggory Warren, are so-called alternative managers, or companies that oversee assets like private equity or real estate. That's because alternatives are less correlated with stocks and bonds and more insulated from fee pressures than traditional assets.
Franklin, the San Mateo, California-based firm that mostly sells equity and bond funds, was drawn to Benefit Street because it competes in private credit, a market that's growing fast in a climate of rising interest rates. The $26 billion firm's vehicles can be sold to institutions such as sovereign wealth funds and potentially the "retail channel," CEO Johnson said on the call.
"We clearly see this as a growth opportunity, where immediately we can plug and play," he said.
While massive acquisitions are a challenge in any industry, the odds can be especially tough in money management, where investment professionals are the key asset. Will they and their clients stick around?
"The big deals carry a lot of risk and the industry doesn't have much history of pulling them off," said Benjamin Phillips, a consultant with Casey Quirk.
Stock investors have reacted with skepticism to most of the industry's largest mergers of the past two years.
Janus Henderson and Standard Life Aberdeen are down about 41 percent and 46 percent this year, respectively, compared with a 21 percent drop for the S&P index of asset managers and custody banks.
Amundi SA, the Paris-based firm that purchased Pioneer Investments last year for about 3.5 billion euros ($4 billion), is down 27 percent, though Europe's largest money manager continues to attract customer inflows.
The small-ball trend isn't stopping everyone from betting big on the future of active management. Invesco Ltd. agreed in October to buy OppenheimerFunds from Massachusetts Mutual Life Insurance Co. for $5.7 billion, adding about $250 billion in assets.
Other firms may be open to larger-scale deals. Lazard Ltd. CEO Ken Jacobs has said he wants to hang on to the company's $240 billion asset-management division -- but would consider a sale if the price were right.
For now, most companies are still taking the incremental approach, though that could change if fees and margins keep getting squeezed, according to Casey Quirk's Phillips.
"At some point, pulling off bigger deals might become more of a necessity," he said.