Bitcoin Rallies Above $14,000 With Traders in Election Limbo
(Bloomberg) -- Bitcoin rose above $14,000 as investors grappled with an uncertain election outcome in the U.S.
The world's largest cryptocurrency rallied as much as 3.8% Wednesday to $14,265, its highest level since January 2018. Peer coins, including Dash and Litecoin, also advanced. The Bloomberg Galaxy Crypto Index gained more than 4% at one point.
Many crypto fans pointed to precariousness around the U.S. presidential race, which is hanging in the balance for a second day. Any uncertainty, they argue, could benefit digital assets as investors remain on edge.
"The longer that we don't have a president technically and the longer that we don't have agreement among the population is positive for crypto," said David Tawil, president of ProChain Capital. "If the courts are forced to get involved, volatility (and fear) will reign for a while. Add all this to the fact that crypto has been performing incredibly well this year -- better than gold and stocks -- crypto is going to gain and gain a lot of believers."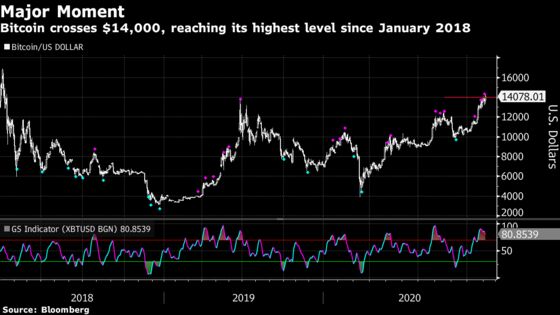 Bitcoin has almost doubled this year as more traditional financial firms express greater interest. PayPal Holding Inc.'s October decision to allow customers to access cryptocurrencies led the coin to spike above $13,000 for the first time in over a year. And Fidelity Investments launched a Bitcoin fund over the summer.
"Bitcoin has made tremendous progress in the last few months in creating institutional interest, and we're starting to see increased use of cryptocurrencies," said Edward Moya, a senior market analyst at Oanda Corp. "This is part of the whole longer-term goal of mainstream acceptance."
But in order for the coin to continue its upward trend, it will need to trade above the $14,000 level for a sustained period of time, chartists and analysts argue. In addition, Bitcoin's GTI Global Strength Indicator -- a measure of upward and downward movements of successive closing prices -- is currently above 80, putting it in overbought territory. In the past, that's signaled Bitcoin could be poised for a breather before it embarks on a new leg higher.
Still, news this week of possible Bitcoin connections to Silk Road black-market activity has done little to dampen sentiment.
"That's not really impacting the price," said Moya. "Normally, a negative Bitcoin headline like that would provide some downward pressure to prices, but right now you're not seeing those fears trigger the selloffs that we used to see."