Bitcoin Dips After Gensler Says SEC Must Root Out Crypto Fraud
(Bloomberg) -- Cryptocurrency enthusiasts exhibited a bit of nerves during Tuesday's Senate confirmation hearing for Gary Gensler, the nominee for chairman of the U.S. Securities and Exchange Commission.
Bitcoin dipped to the lowest levels of the day after Gensler said that insuring that cryptocurrency markets are free of fraud and manipulation is a challenge for the agency. The largest cryptocurrency declined as much as 3% to $47,341 in New York trading. It has jumped about 65% since December.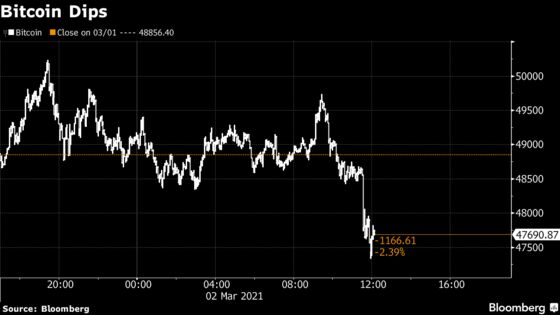 Gensler, who served as a Commodity Futures Trading Commission chairman during the Obama administration, has been viewed as a strong advocate for digital assets. He serves as a senior advisor to the MIT Media Lab Digital Currency Initiative and teaches about blockchain technology and digital currencies.