Bitcoin ETF Debut Didn't Draw Retail Trader Interest, Vanda Says
(Bloomberg) -- The hotly-anticipated debut of the first Bitcoin-linked exchange-traded fund listed in the U.S. was likely largely ignored by retail traders, according to Vanda Research.
The futures-based ProShares Bitcoin Strategy ETF, which debuted under the ticker BITO on Tuesday, drew $7.68 million in cash from individual traders, said the firm that tracks retail-trading flows in the U.S. The day-trading crowd instead preferred tech heavyweights like Apple Inc. and Alibaba Group Holding Ltd. in addition to clean energy stocks.
While Vanda was quick to call the debut a disappointment, it's worth noting that the firm's findings are just one data point in the sea of retail investing. The ETF was the most bought asset by Fidelity customers with more than 10,000 buy orders on Tuesday. That's compared to roughly 6,000 buys for Tesla Inc. which was the most traded product on Fidelity's platform.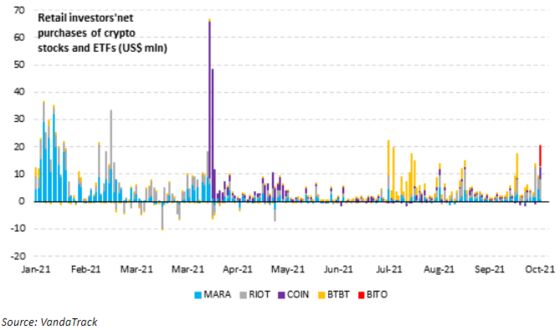 The ETF rose about 4.9% to $41.94 in Tuesday's session with more than 24 million shares changing hands. The heavy activity was likely due to hedge funds and investment advisers shorting the ETF to gain from contango, or a higher price for the futures than the actual cryptocurrency, Vanda's Ben Onatibia and Giacomo Pierantoni wrote. Net flows into or out of the product likely won't be known until overnight on Wednesday.
The reception from the retail crowd "wasn't as much of a blockbuster" as expected and Vanda anticipates trading volumes will taper in the coming days, the analysts wrote. The analysts compared BITO's debut to the likes of Invesco S&P 500 QVM Multi-factor ETF and the BlackRock World ex U.S. Carbon Transition Readiness ETF as products that saw massive volume on their first day of trading before fizzling out.
BITO slipped 0.7% to $41.66 at 7:55 a.m. in New York, mirroring Bitcoin's 0.5% drop to $63,824. Options on BITO will start trading on the NYSE Arca Options and NYSE American Options exchanges on Wednesday.
Read more: Bitcoin ETF May (or May Not) Pave Path to $100,000