Biotech Stocks Slip on Lack of Deals at JPMorgan Conference
(Bloomberg) -- Biotechnology companies slid Monday as big mergers failed to materialize from one of the sector's most heralded events of the year.
The iShares Nasdaq Biotechnology exchange traded fund fell as much as 1.8%, the biggest intraday drop since Oct. 8, as the JPMorgan Healthcare Conference kicked off in San Francisco. One of the biggest deals to come out ahead of the meeting is Teladoc Health Inc.'s $600 million purchase of closely held InTouch Health, a far cry from Bristol-Myers Squibb Co.'s $74 billion tie-up with Celgene Corp. before last year's event.
Eli Lilly & Co.'s $1.1 billion deal for Dermira Inc. on Friday also failed to ignite investor enthusiasm, when the deal came in at a 2.2% premium to Dermira's Thursday closing price. The cash offer for $18.75 a share was less then half the stock's record high close of $38.03 in March 2017.
"The thing I worry about coming into JPM is that even if we have a couple buyouts, what happens to the other stocks that are priced for perfection?" independent investor Brad Loncar said in a meeting Sunday before the conference started. "Last year we came into this conference with the worst expectations I've ever seen and there were buyouts that eased those concerns, but this year we have some of the highest expectations I've ever seen."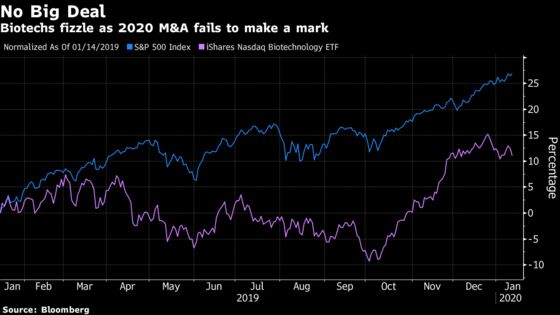 Biotech has been trying to close the gap with the broader market and anticipation has been building that the world's biggest drugmakers will continue to snap up their small-cap brethren after 2019's banner year. In a report Monday, professional services firm EY said the health industry had more than $1 trillion in "firepower" that should deliver another strong year for deals. And there's no shortage of needs when it comes to biotech investors' wish lists.
Some of the companies that frequently appear at the top of analysts' M&A lists were among the biggest decliners Monday. Iovance Biotherapeutics Inc. plunged 15% while Intercept Pharmaceuticals Inc. slid as much as 8.5% and Seattle Genetics Inc. fell as much as 7.1%. Uniqure NV, which Bloomberg reported was exploring options including a sale in June, fell as much as 9.7%.