Biotech Looks for Fireworks in First Quarter to Regain Momentum
(Bloomberg) -- Study results and regulatory actions in the first quarter may help reignite enthusiasm for biotech stocks. Here's a look at some of the key catalysts investors are watching.
Biogen, Vertex, Bristol-Myers
Biogen Inc. will be front and center this quarter with a patent update as well as plans to file its controversial Alzheimer's disease drug for regulatory approval. The U.S. Patent Trial and Appeal Board is set to make a decision in early February on the biotech's top-selling drug, Tecfidera. Mylan NV is challenging a key patent on the multiple sclerosis medicine under a process called inter partes review.
If Mylan wins, Biogen could lose eight years of exclusivity and face near-term competition instead of fending off rivals until 2028. A win could drive Biogen shares up 10% while a loss may set off a 20% slide, Jefferies analyst Michael Yee said.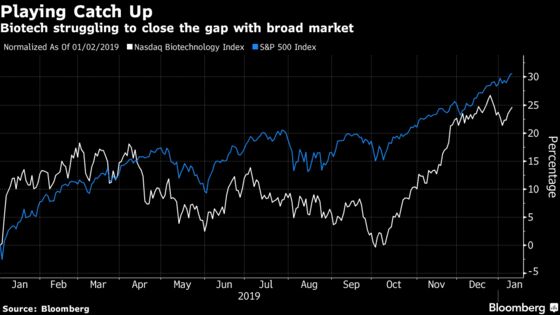 Meanwhile, Biogen promises to keep last year's surprise turnaround story -- aducanumab -- at the top of investors' minds. Biogen and partner Eisai Co. plan to file the experimental Alzheimer's drug for Food and Drug Administration review early this year. The agency would then have 60 days to decide whether to accept the application.
For Vertex Pharmaceuticals Inc., focus will be on the first quarter of sales of its triplet therapy for cystic fibrosis, Trikafta. Investors may know as soon as this weekend as Vertex sometimes announces preliminary earnings ahead of the JPMorgan Healthcare Conference in San Francisco.
With the shares closing at a record on Wednesday, Vertex may have a tough time beating "very high expectations," Stifel analyst Paul Matteis said. He also wondered if VX-814 in Alpha-1 antitrypsin deficiency can "live up to the hype" as Vertex tries to expand beyond its cystic fibrosis franchise. Those results are expected in the first half of the year.
Former Celgene investors will face the first test of their rights to an additional $9 per-share payout from Bristol-Myers Squibb Co. when the FDA decides whether or not to approve ozanimod in multiple sclerosis. A decision is expected by March 25. If any of the three drugs tied to the contingent value right fail to win approval within the next 15 months, the CVR will be worthless.
Genfit, Karyopharm, Aimmune, Esperion
A first look at Genfit's pivotal data in nonalcoholic steatohepatitis may give investors further insight into the nascent market while awaiting the first approved drug. The French company's shares could double on good data while bad results may cut the stock in half, Roth analyst Yasmeen Rahimi said.
Results from a key study dubbed "Boston" for Karyopharm Therapeutics Inc.'s Xpovio could help expand the pool of patients eligible to use the cancer medicine. Positive results may push peak Xpovio annual sales to more than $1 billion and increase the drugmaker's M&A premium, JPMorgan's Eric Joseph said.
Other upcoming FDA decisions may also have a big impact on share prices. Aimmune Therapeutics Inc. faces a decision by the end of January for its peanut allergy medicine, and options suggest investors are betting on a 12% move. And Esperion Therapeutics Inc. could see a gain of 20% or more if the FDA approves its cholesterol pill bempedoic acid by itself and in combination with ezetimibe by Feb. 21 and Feb. 26, respectively, according to Yee. The stock could fall by half if the applications are rejected, he said.