Danaher Soars as GE Deal Delivers 'Picks and Shovels' of Biotech
(Bloomberg) -- One of the best-received deals in health care this year isn't a hot biotechnology company or a drug giant megamerger. It's the takeover of a business that sells the products to keep medical research pipelines humming.
Danaher Corp. on Monday announced a $21.4 billion acquisition of General Electric Co.'s biopharma unit. The deal puts Danaher at the forefront of the drug and biotech sector's hottest fields: fixing serious health conditions at the molecular level; modifying cells and DNA; and growing new proteins.
By supplying the machines and materials that help companies develop new therapies, Danaher will benefit from the industry's growth without taking the stock-killing risk when a drug trial fails, said Ross Muken, an analyst at Evercore ISI in New York.
"If the space as a whole is successful, you will then succeed," said Muken. He declared the deal a home run for Danaher, which is building out its existing roster of medical-research tools. "You are the picks-and-shovels provider -- you don't take binary risks."
Danaher shares gained as much as 9.4 percent, their biggest intraday gain in a decade.
Other big health purchases this year haven't been as well-received. Bristol-Myers Squibb Co. fell 14 percent the day it announced a $74 billion takeover of Celgene Corp. Eli Lilly & Co. shares barely budged after saying it would add a promising new cancer therapy by acquiring Loxo Oncology Inc. for $8 billion.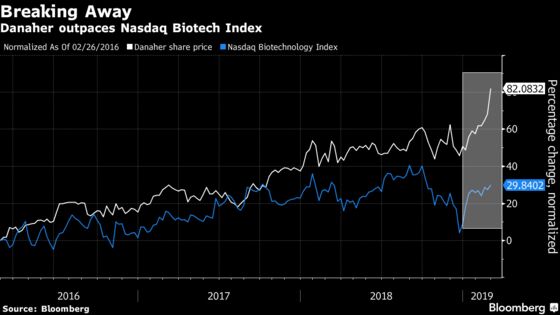 The deal is Danaher's biggest ever, and won't come without strain. The company will issue about $3 billion in equity and take on debt to pay for the takeover. Moody's Corp. said that it was putting the company's senior unsecured debt on review for a downgrade that could be greater than one notch.
Danaher executives were giddy discussing the acquisition on a conference call.
"This is an incredibly strategic addition to our life-sciences portfolio that will help establish Danaher as one of the world's leading providers of bioprocessing solutions," said Chief Executive Officer Tom Joyce. "It's not just about the solutions that GE Biopharma will add to our portfolio today, but it's also what the team is capable of creating tomorrow and for the next 30 years."
Ultimately, the deal will help District of Columbia-based Danaher speed up the process of making lifesaving drugs while simultaneously reducing the cost to manufacture them, Joyce said. It will also allow the company to ride the coattails of a deep pipeline of drugs in development -- especially cell and gene therapies with complex, often custom manufacturing needs.
There are more than 800 trials using cellular and gene therapies currently underway, according to the U.S. Food and Drug Administration, and the agency expects to get 200 more annually starting in 2020. Each trial requires a complex manufacturing approach to make the treatments, which will also help Danaher's rivals, including Thermo Fisher Scientific Inc., Merck KGaA and Lonza Group AG.
Big-name pharmaceutical companies have been snapping up biotech startups that are using the complex new techniques.
On Monday, Roche Holding AG agreed to buy Spark Therapeutics Inc., a gene-therapy company, for $4.8 billion, a 138 percent premium to where shares closed on Friday. Last year, Novartis AG bought AveXis, another upstart gene-therapy company, for $8.7 billion.
"This field is still in its infancy, but the big companies are feeling that they need to get exposure to it," said Asthika Goonewardene, an analyst with Bloomberg Intelligence. "Given the amount of early-stage companies out there and the fact that big players are getting more and more interested, we are going to see explosive growth and innovation in the cell- and gene-therapy space."