Biotech Company in Argentina Misses Out on U.S. IPO Boom
(Bloomberg) -- Bioceres SA will likely delay its initial public offering to 2019 after a currency rout shook confidence in Argentine companies, forcing the company to miss out on a boom in biotech IPOs.
The window for the sale of shares in 2018 has now closed and the company will focus on increasing revenue from outside of Argentina to reduce its dependence on the country, according to a person with direct knowledge of the company's plans. The person asked not to be identified because talks are private. Rosario-based Bioceres sells fertilizers, genetically modified seeds and chemicals to protect crops.
Bioceres, which had sought to list in the U.S., is missing out on a boom in biotechs IPOs. U.S.-based biotechs have been going public at more than triple the rate of 2017 and only two of this year's 25 biotech IPOs priced below range. The class has risen 7.2 percent on average, according to data compiled by Bloomberg, outpacing the S&P 500 but trailing the Nasdaq Biotech Index.
Argentine companies placed plans to raise capital on hold this year after the peso's 32 percent decline this year, the worst in emerging markets. The economy likely entered a recession last quarter and local borrowing costs of 40 percent are complicating the panorama even after President Mauricio Macri agreed to a credit line with $50 billion with the International Monetary Fund. Argentine stocks are heading for the worst year in almost a decade.
The economic malaise is putting a crimp in Argentine plans to list shares this year. Agribusiness company Molino Canuelas told local regulators this month that an IPO is unlikely in the medium or long term. Instead, it has now hired Lazard to restructure its debt. Other companies that had been looking to go public this year include energy company Genneia SA and Spanish phone carrier Telefonica SA, which had hired banks to sell shares of its Argentine unit.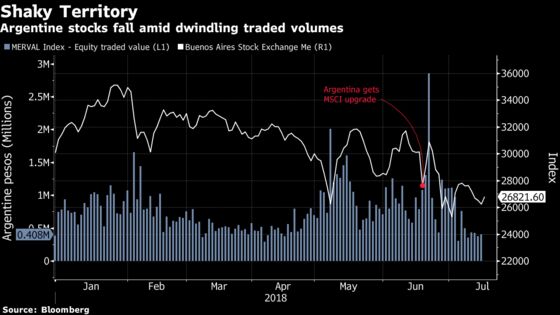 Bioceres, originally sought on Feb. 6 to sell the equivalent of 11.8 million shares in Buenos Aires and New York at a range of $10 to $12 per share. Then it tried to IPO before May 11 after a February rout.