Biotech Stocks Tumble as FDA Commissioner Gottlieb to Resign
(Bloomberg) -- Biotechnology stocks sank in late afternoon trading after reports that U.S. Food and Drug Administration Commissioner Scott Gottlieb is resigning.
The Nasdaq Biotechnology Index, a closely watched gauge of investor sentiment, reversed an intraday rally to fall as much as 0.6 percent. Drugmakers including Incyte Corp., Regeneron Pharmaceuticals Inc., Nektar Therapeutics, Mylan NV and Alexion Pharmaceuticals Inc. were among those that saw some of the biggest declines.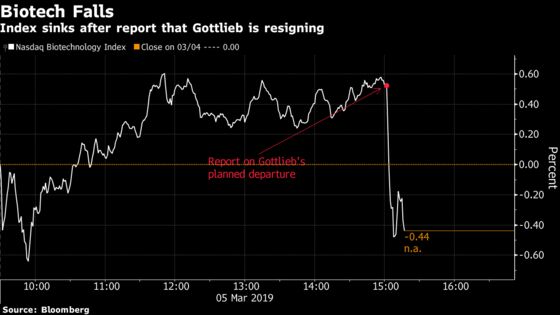 "One reason the markets don't like this is because he was really universally respected," Brad Loncar, chief executive officer of Loncar Investments, said by telephone. "In these times, who the FDA commissioner is matters a lot because medicine is constantly changing with new technologies like cell therapies and gene therapies that have the potential to disrupt how medicine is practiced."
Gottlieb was among those pushing for faster approvals of copycat drugs and touted a brisk pace of generic approvals among options to lower drug prices. He also led a movement toward quicker approvals in biotechnology's fastest-growing fields like gene therapies.
Gottlieb has also championed a movement against youth vaping and teenage tobacco use. Shares of tobacco stocks including Altria Group Inc., Philip Morris International Inc., and British American Tobacco Plc briefly spiked to session highs after his resignation was initially reported by the Washington Post. 22nd Century Group Inc., a company focused on less harmful tobacco products, sank 26 percent in its biggest drop since November 2012.
To be sure, Gottlieb said when he joined the Trump administration two years ago that he intended to only helm the agency for two years.
"These things tend to feel like the most Earth-shattering event when they happen, but I wouldn't worry about it until a short list of replacements comes out," Loncar said. "The biggest risk here could be the administration's ability to appoint a replacement and get them approved by Congress members."