Analyst-Turned-CEO Says His Biotech Stock Is Cheap, Even After a 900% Rally
(Bloomberg) -- You'll have to forgive Viking Therapeutics's chief executive for slipping into analyst speak when noting his company is trading at a "tremendous discount."
Brian Lian used to cover biotechnology firms at SunTrust, but the former sell-side analyst has been running Viking for the past six years. So instead of passing judgment and bestowing ratings, he's getting ready to present pivotal data later this year on the company's drug candidate for liver disease.
So far most of Viking's value -- shares soared over 900 percent the past year -- has been driven by a competitor's results in treating nonalcoholic steatohepatitis, or NASH. When Madrigal Pharmaceuticals Inc. climbed on NASH data and takeover speculation, shares for Lian's company followed suit as investors pointed to the similarity of their therapies.
"It's a great business model," Lian joked of Viking's sympathy gains, speaking in an interview at Bloomberg News in New York. But it's not unreasonable to assume that Viking's products will also have a positive effect as peers like Madrigal provide further proof of concept for its pipeline.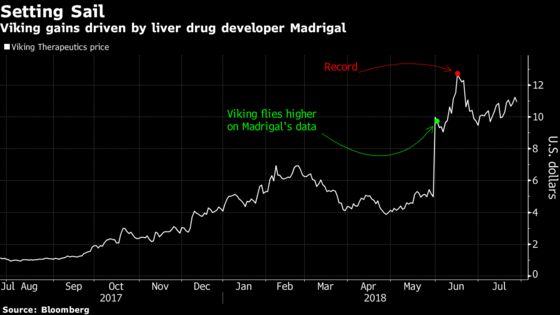 And there are other sympathy plays on the horizon for La Jolla, Calif.-based Viking. GTx Inc. is expected to report results from a mid-stage study evaluating its experimental therapy for stress incontinence in older women in October. Those results may put more wind in Viking's sails since its VK5211 compound uses the same mechanism of action and already has results in hip fractures.
Lian got the idea for Viking in 2012 when he met with Ligand Pharmaceuticals Inc. chief John Higgins and expressed an interest in some promising assets for metabolic diseases. He left SunTrust the next year to devote himself to the new venture, picked up more assets from Ligand in 2014 and eventually listed in 2015 with backing from friends and family.
While Viking's jump into an initial public offering without the validation of early venture-capital funding may have given early investors pause, it has been a hit with the sell-side. All seven analysts tracked by Bloomberg rate the company a buy, including Lian's former shop.
Now Lian is talking to partners that may be able to help develop VK5211. A positive readout from GTx may bolster confidence in Viking's molecule and a chance to seal a deal.
Viking isn't all about basking in the momentum from competitor data. Lian said the company plans to report results in non-alcoholic fatty liver disease, or NAFLD, later this year. Despite the run-up, he believes Viking shares are trading at a steep discount considering VK2809 has shown similar lipid effects at a fraction of a dose of Madrigal's drug.
"We're going to show our data and we'll see where they fall," Lian said.
The analyst at Lian's old firm, SunTrust, agrees. Edward Nash said that while shares have had a good run, they are trading at a significant discount to Madrigal and "we see much more upside ahead."
All is not always sweet for sympathizing stocks though. Today Viking's shares tumbled as much 10 percent, following Madrigal lower on its 11 percent slide. The reason? The chances of a Madrigal takeover dampened after a likely suitor said its chief executive officer was leaving and large-cap drug makers across the board described valuations as too rich for deals during their quarterly earnings calls, Raymond James analyst Steven Seedhouse wrote in a note to clients.