BioNTech Lifts Covid Shot Forecast to Almost $20 Billion
BioNTech SE raised its forecast for this year's Covid-19 vaccine sales to as much as 17 billion euros ($19.7 billion), lifting the estimate once more as the pandemic drags on and countries order more shots. 
BioNTech and partner Pfizer Inc. have signed contracts to deliver some 2.5 billion doses of the vaccine this year, and expect to manufacture as many as 3 billion doses by year-end, the Mainz, Germany-based company said on Tuesday. 
The windfall from the vaccine -- the best-selling pharmaceutical product of all time in a given year -- has equipped BioNTech with the funds to push the rest of its experimental pipeline forward. It's also raised the pressure on the biotech to show that its growth can be sustained even as its Covid sales wane in coming years.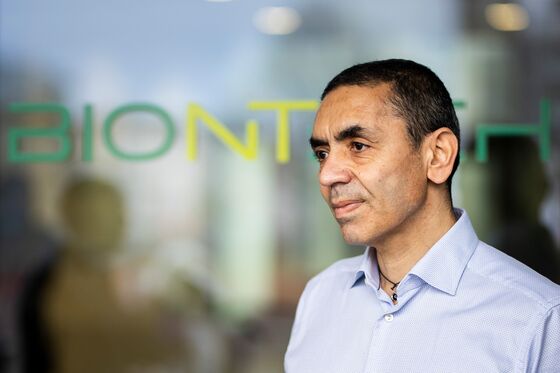 BioNTech shares fell as much as 5.2% in U.S. trading. They have dropped about 50% from their high on Aug. 9 as Pfizer and U.S. pharma giant Merck & Co. reported breakthroughs on Covid pills and rival vaccine maker Moderna Inc. warned that it wouldn't hit its delivery targets for this year.
The coronavirus shot isn't just a powerful driver of growth for BioNTech: it's playing a similar role at partner Pfizer, despite the company's larger size. The U.S. drugmaker last week projected that the vaccine would bring in $36 billion in sales this year, up $2.5 billion from an earlier forecast. 
Pfizer and BioNTech split revenue 50-50 outside China, where BioNTech has a partnership with Fosun Pharma.
The durability of that sales stream depends in part on how many times a Covid vaccine needs to be repeated. Countries with plenty of vaccine supply, such as the U.S., are increasingly offering fully-vaccinated people a booster shot. 
It's unclear whether one booster will be enough or more will be needed, said Chief Executive Officer Ugur Sahin and Moderna CEO Stephane Bancel, who spoke on a conference panel together in Berlin on Tuesday.
"The question will not be answered this year, but I'm sure next year, in April, May, we will know more," Sahin said, adding that a need for boosters will also depend in part on what virus variants develop. 
A person's booster schedule may depend on their age and other health conditions, Bancel said. There's a need to "be humble and follow the data and the science," he said. 
BioNTech, meantime, is working on testing its experimental cancer medicines on patients with a view to bringing more products to market. The company has four programs in mid-stage clinical trials for oncology treatments, including one for high-risk colorectal cancer patients, according to Sahin. It will report positive clinical data from six oncology programs at an upcoming conference, showing "favorable safety profiles and robust immune responses," he said. 
The biotech firm had previously predicted 15.9 billion euros in revenue this year from deliveries of 2.2 billion doses of its only marketed product. Production of the shots could rise by a third to reach 4 billion doses next year, it said.