BioMarin Bulls Are Counting on Gene Therapy to Reignite the Stock
(Bloomberg) -- One of biotechnology's most closely watched stocks will face a crucial test over the next month when investors get a fresh look at data on its hemophilia A gene therapy.
BioMarin Pharmaceutical Inc. is set to announce results of its medicine, Valrox, that will show how durable the next-generation drug is three years after dosing. The update has been seen across Wall Street as the next key value driver for shares and could spur the stock to either rise or fall as much as 25 percent, according to Wedbush.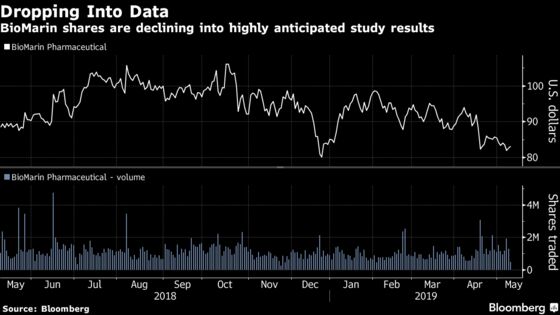 Investors have become increasingly wary of how much the medicine's benefit will decline compared to two-year results. The stock is down more than 20 percent from a mid-October peak, even after an early April rally when sell-side analysts heaped on praise for the upcoming data. The average analyst price target implies more than 40 percent upside for the shares over the next 12 months, according to data compiled by Bloomberg.
Three-year results that show only a slight drop in factor VIII expression to roughly 35 percent of normal would likely be welcome news for investors, according to SVB Leerink analyst Joseph Schwartz.
"A stabilization of factor VIII expression to this degree would be a massive positive surprise, potentially sending the stock up as much as 20 percent," Schwartz wrote in a note to clients. On the flip side, if factor VIII expression falls to 20 percent or less, SVB Leerink expects an initial drop in the stock but sees downside as limited given the current valuation.
BioMarin, the eleventh-largest company in the Nasdaq Biotechnology Index with a market value of about $14.9 billion, is focusing on the number of bleeding events that patients report as well as the factor VIII levels.
"By far and away the most important thing out of the three-year update is the bleeding data," Chief Commercial Officer Jeff Ajer said on the company's earnings call in April. "That's the clinical morbidity of a patient's experience, it's what cost the health-care system a lot of money, it's going to be what payers care a lot about."
A lot of excitement on Wall Street has focused on the potential for BioMarin to win accelerated approval for the medicine.
Annual bleeding rate is the "most relevant metric" with consistent-to-better results compared to two-year data likely seen as a positive, Goldman Sachs analyst Salveen Richter wrote in an April 26 research report. BioMarin is due to present its full findings at the International Society on Thrombosis and Haemostasis meeting in Melbourne in July, although the company says initial results should come in late May or early June.
Bets against the San Rafael, California-based company slowly came off the table in the last year -- with the percentage of shares sold short falling to 5.3% from 7.4%, according to financial analytics firm S3 Partners.
"Investors should avoid a knee-jerk reaction to the upcoming data releases" as Valrox could be a "potential commercial winner even with declining factor VIII," Raymond James analyst Reni Benjamin wrote in an April 29 report.
Nomura Instinet's Christopher Marai cautioned that being first to market won't be enough to make Valrox a winner "as patients have the luxury to wait for the next best one-time therapy." He has a neutral rating on BioMarin.
Spark Therapeutics Inc., which is in a proposed takeover deal with Roche Holding AG, as well as Sangamo Therapeutics Inc. and partner Pfizer Inc. are among the companies studying potential one-time treatments for hemophilia A.