Biogen Sinks After Alzheimer's Data Leaves Analysts With Questions
(Bloomberg) -- A presentation on Biogen Inc. Alzheimer's disease drug sent the shares plunging 10 percent in pre-market trading and reignited a debate on the drug's effectiveness. It also muddied any read-across to the company's potential blockbuster-in-waiting, aducanumab, according to analysts.
"There are almost no reasonable conclusions to draw from the BAN2401 data presented yesterday," Robert W. Baird & Co.'s Brian Skorney wrote in a note on Thursday, adding that there are a lot of problems with the study.
Analysts agreed that while the results from Biogen and partner Eisai Co. were encouraging, there remain questions about what will be seen in a follow-up late-stage trial.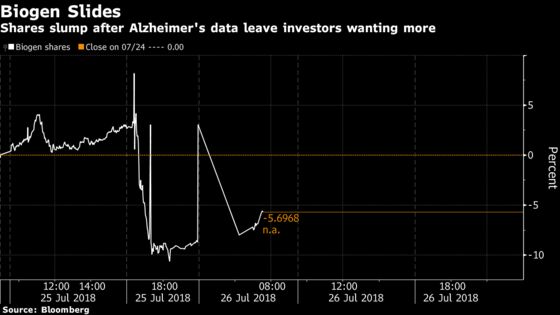 Here is a round up of analyst commentaries following the results:
RBC Capital Markets, Brian Abrahams
After the stock's nearly $100-per-share rally, "we are essentially back where we started --with a high-growth Alzheimer's portfolio, somewhat de-risked by '2401's hypothesis validating data but with key unknowns remaining."
The "detailed BAN2401 data looked mixed, with good amyloid plaque reductions and potentially clinically meaningful efficacy across multiple endpoints offset by emerging questions on impact of baseline imbalances, some data inconsistencies and an uncertain filing path." Amyloid plaque is a buildup of protein in the brain associated with Alzheimer's disease.
The risk/reward is "baked into the shares at a fair value that we continue to believe is in the mid-$300s." Abrahams has a sector perform rating on the shares and reiterated his price target of $357.
"All the enthusiasm for this Alzheimer's data is going to come out of the stock now
and we may even see an over-correction in the coming weeks."
The results are in no way able to be filed with the FDA and Skorney is "shocked that Biogen hadn't cleared up any speculation about filing on this data when it first came up following the top-line announcement a couple of weeks ago."
Skorney has a neutral rating and a $348 price target.
The highly anticipated Phase 2 data cause more confusion and "confirmed our prior assessment that it had been premature to assign Biogen credit for this asset based on the limited disclosure in the initial press release."
Lack of clear dose response or biomarker to benefit correlation "once again call the reliability of this result and any associated inferences into question" despite the 30 percent score on a novel measure called ADCOMS.
Porges rates the stock market perform with a target price of $340.
Suneja is "cautiously optimistic" on Biogen's lead Alzheimer's asset, aducanumab, though the BAN2401 data raise more questions.
"Somewhat less enthusiastic on this program" as BAN2401 had unbalanced treatment arms and failed to show statistical significance in cognition improvement.
Suneja has a buy rating and $392 price target.
Imbalances in the proportion of patients carrying a genotype related to the disease "and an imperfect correlation between amyloid clearance and clinical outcomes, raise concerns" despite signs of activity.
"Few investors will want to go into the Phase 3 data underweight Biogen" though a "number of the details of last night's data raise concerns that differences in cognitive decline between the arms might not be due to drug effect."
Nadeau has an outperform rating on the shares and a $408 price target.
William Blair, Matt Phipps
A portion of the recent share gain will be lost, however, "Biogen's near-term earnings growth can support outperformance with additional upside potential from developmental pipeline success."
The presentation showed "some positive glimpses but also raises additional questions" with additional subgroup analysis likely needed to get a clearer picture of the drug's activity.
Phipps has an outperform rating on the shares.
Bloomberg Intelligence, Asthika Goonewardene
Positive data were "thwarted by a patient imbalance that may have helped drive the efficacy signal. Further analysis is required to understand this, but in the interim, it's a let down to recent investor enthusiasm."