Biogen's $11 Billion Boom Erases 2019 Alzheimer's Drug Struggle
(Bloomberg) -- Biogen Inc.'s rally of more than 30% Wednesday after it won a key patent dispute has some investors celebrating as they put last year's concern surrounding a failed Alzheimer's drug study in the rearview mirror.
The stock, which almost reached $375, is now higher than it was before it lost a quarter of its market value in March 2019, when a pair of studies for the Alzheimer's drug failed. With hopes for that drug revived, and patent concerns laid to rest, Biogen is now the year's top performing large-cap U.S. health stock after a weak 2019.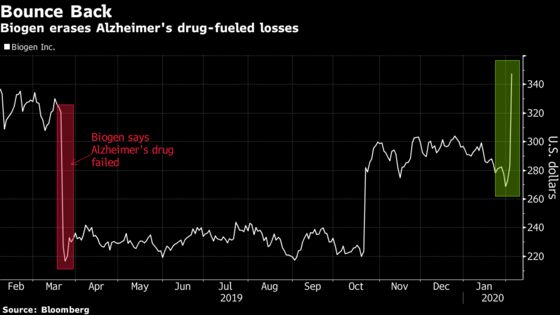 When Biogen and partner Eisai Co. said their experimental Alzheimer's therapy was a bust, many on Wall Street threw in the towel on the company and said it needed to be an active dealmaker in order to boost investor sentiment. After the pair of wins for Biogen, the $61 billion company remains on track to meet the goals that management laid out at a meeting in San Francisco last month.
The next key catalysts for investors is whether or not U.S. regulators will accept a filing for that Alzheimer's drug, aducanumab, and if it will get priority review status. The company is on pace to deliver a filing for the drug candidate sometime before the end of March.