Biogen on Deck as Biotechs Face Make-or-Break Earnings Season
(Bloomberg) -- Beaten-down biotech stocks have a lot riding on the third-quarter earnings season, which kicks off Tuesday when Biogen Inc. reports.
It's not because expectations are very high. They aren't. But Wall Street will be closely scrutinizing the reports in light of the recent volatility that has slashed this year's gains among the group to about 4 percent from about 15 percent at the end of August.
"We expected limited fireworks" in the third quarter, Morgan Stanley analyst Matthew Harrison wrote in a note this month. "However, if a company does miss, we would expect greater-than-expected weakness given the recent relative large cap strength."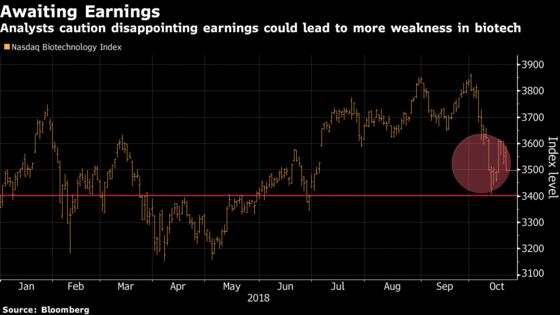 The good news is that despite the strong second-quarter results that drew investors back into the sector, sending stocks to the highest level in three years, Wall Street's expectations appear to be conservative this quarter, according to Leerink analyst Geoffrey Porges, leaving room for modest beats.
Bloomberg Intelligence expects Biogen to report revenue of about $3.4 billion, which would be slightly above analyst estimates and could allow for another small increase in guidance, according to analyst Asthika Goonewardene. The elephant in the room for Biogen, however, is a data update on one of its closely watched experimental Alzheimer's drug, called BAN2401, two days after earnings.
Leerink's Porges also points out that prescription volumes will be a bigger focus for the sector this quarter in light of "declining net positive price," few changes in inventories and flat to declining shipping days. For most companies, volumes seem likely to be flat or down sequentially, and modestly up compared to the prior-year period, he estimates.
Decelerating growth remains a challenge for the industry, Goldman Sachs analyst Terence Flynn wrote in a preview note. New product cycles and capital allocation are key factors that could improve investor sentiment, he adds. Among newly launched drugs this quarter, Goldman is mostly focused on Amgen's Aimovig, Alexion's Soliris, Alnylam's Onpattro, Biogen's Spinraza, Gilead's Biktarvy and Yescarta, Regeneron's Dupixent and Vertex's Symdeko.
Another big test facing the sector besides earnings is the Nov. 6 midterm election, which is seen "as a natural profit-taking period," William Blair analyst Tim Lugo cautioned. A number of analysts see a divided House and Senate as the most probable outcome, with RBC saying that makes the implementation of more meaningful drug-pricing initiatives from President Donald Trump more difficult.
Any volatility from the political debate on how to lower the costs of medicines could be offset by "improved comfort" following the election that meaningful changes are unlikely, RBC analyst Brian Abrahams wrote.
3Q adjusted EPS estimate $6.78 (range $6.53 to $7.19)
3Q revenue estimate $3.33 billion (range $3.2 billion to $3.45 billion)

3Q Tecfidera revenue estimate $1.1 billion
3Q Avonex revenue estimate $481.3 million
3Q Plegridy revenue estimate $121.8 million
3Q Tysabri revenue estimate $454 million
3Q Spinraza revenue estimate $444.8 million

FY revenue estimate $13.2 billion (range $12.92 billion to $13.4 billion); Biogen in July forecast $13 billion to $13.2 billion
FY adjusted EPS estimate $25.28 (range $24.97 to $25.70); Biogen forecast $24.90 to $25.50
21 buys, 9 holds, 0 sells, average price target $394
Implied 1-day share move following earnings: 6.0%
Shares rose after 10 of prior 12 earnings announcements
Adjusted EPS beat estimates in 11 of past 12 quarters
Shares have risen 0.6% this year while the Nasdaq Biotech Index has gained 4.2%
Earnings release expected before market open Tuesday
Call 8 a.m., (877) 650-1145 password: 98161997