Biogen Investors Face Next Test With Pending Drug Patent Ruling
(Bloomberg) -- Biogen Inc. investors should strap themselves in for a volatile week ahead of a key patent decision on its blockbuster multiple sclerosis drug.
A decision from the U.S. Patent Trial and Appeal Board, expected by February 6, could move shares up or down by 8%, options expiring February 7 show. Implied volatility is elevated near 70%, which compares to a three-month historical average of 46%.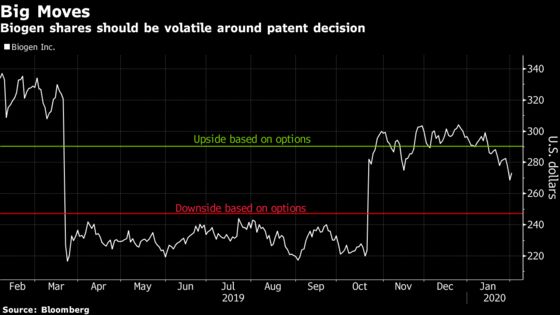 Competitor Mylan NV is challenging a patent on the drug, Tecfidera, that could wipe out eight years of exclusivity for Biogen and bring a copycat drug to patients sooner than hoped. SunTrust analyst Robyn Karnauskas said a negative outcome for Biogen could slash the biotech's discounted cash flow model by $40 per share, though specifics on Mylan's commercial efforts are key to assessing the damage.
The drug brought in $1.16 billion in sales for the final three months of 2019, with full-year revenue from the drug reaching $4.4 billion, roughly 30% of the company's revenue. While bears have pointed out that a negative decision could impact sales in the near-term, William Blair analysts highlighted in a note to clients that any decision will likely be appealed, delaying a final ruling.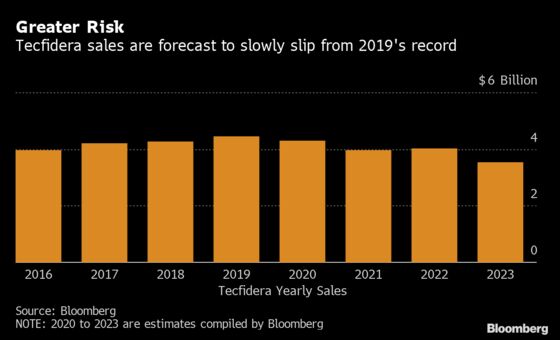 Chief Financial Officer Jeff Capello told analysts Jan. 30 that the company would appeal any loss in either the patent office or district court cases, which would take 12 to 18 months. Capello said it is "difficult to predict" whether the generic-drug makers would launch without waiting for the appeals court decision.
Decisions around Tecfidera patents "could provide near-term volatility and are extremely difficult to predict," BMO Capital Markets analyst George Farmer wrote to clients. "Transitioning Tecfidera patients and initiating new patients to Vumerity, a more tolerable fumarate, would lessen the impact of a negative IPR decision, but the launch is too early to gauge demand."
Jefferies' Michael Yee sees a bit more on the line for the decision, projecting a 10% move to either side for Biogen stock. He pointed out in a January 30 note that bears see Biogen as uninvestable ahead of the decision with bulls saying the ruling will remove an overhang on the stock.
Among Biogen's biggest fans on Wall Street, SVB Leerink, reiterated its outperform rating Monday morning writing that the current "valuation already reflects a worst case scenario for the Tecfidera loss of exclusivity."
The decision will pave the way for investors to bet on whether or not U.S. regulators will approve the company's controversial Alzheimer's drug candidate. Matt Phipps, an analyst at William Blair, highlighted that the patent ruling and the next steps for aducanumab are among the primary focuses for investors. Biogen is on pace to deliver a filing for the Alzheimer's candidate sometime in the next two months.