Sangamo Surges After Inking Gene Therapy Deal With Biogen
(Bloomberg) -- Biogen Inc. and small-cap drug developer Sangamo Therapeutics Inc. entered a partnership to develop gene therapies for diseases attacking the brain and central nervous system, including Alzheimer's disease and Parkinson's disease.
Sangamo will get $125 million in cash and a $225 million equity investment, plus up to $2.37 billion in development, regulatory and commercial milestones and potential royalties. Biogen plans to buy about 24 million shares of Sangamo at $9.21 each, more than 35% above Thursday's closing price, to become its largest shareholder. Royalties on products that come from the deal may range from high-single digits to sub-teen double digits.
Sangamo shares surged more than 46% in extended trading after the news was announced. The deal helps reignite interest in Sangamo shares after a rough start to the year that has seen the company underperform the Nasdaq Biotech Index.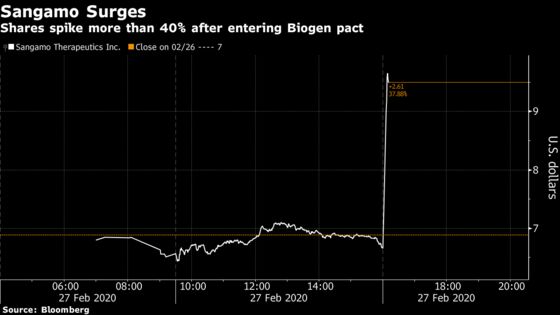 "What that money does is allow Sangamo to have a very healthy balance sheet and to develop our own proprietary medicines," Sangamo Chief Executive Sandy Macrae said in a phone interview. "This was a competitive process, there were several other parties that all were excited about our technology, and this allows us to move our medicines forward with the right partner."
The pair will split the costs of early research activities that Sangamo will perform. Biogen then will assume responsibility and expenses for the investigational new drug-enabling studies, clinical development, related regulatory interactions and global commercialization. Closing of the deal is subject to antitrust approval, which should happen by mid-year.
Partnerships with large-cap drugmakers is nothing new for Sangamo. At the end of 2019, the company said it successfully transfered an experimental gene therapy for the blood-clotting disorder Hemophilia A to partner Pfizer Inc.
"This will not be the last partnership that we do," Macrae said. "We will partner in areas that we think are interesting and important, but need another company's expertise to help us be successful."