Billions in Bailouts Still Can't Heal Kazakhstan's 'Sick' Banks
(Bloomberg) -- After a decade of efforts and $18 billion in state bailouts, Kazakhstan's banking sector is still in a mess. Just ask the country's president.
"The financial system is sick," President Kassym-Jomart Tokayev told a government meeting last month as he railed against declines in business lending and an increase in loans to consumers with little chance of repaying the money. "The role of the banking sector in the development of the economy is declining every year."
His gloomy assessment came as the Kazakh central bank prepares to issue asset-quality assessments of individual lenders on Feb. 28 after it gave the country's overall banking sector a clean bill of health in December. Tokayev has insisted there will be no more bailouts of private banks in a system long plagued by related party lending and poor governance.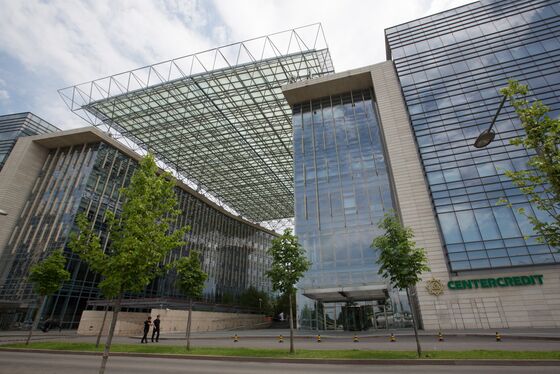 "Widespread graft in the Kazakh banking system led to an accumulation of a very high level of problem loans," Annette Ess, an analyst at S&P Global Ratings said.
The central bank, which requires disclosure of any related-party loans, acknowledged in 2018 that "unscrupulous lending practices remain systemic and widespread."
The sector needs to attract outside investment as the government of central Asia's largest energy producer demands the banks do more to help grow an economy that's struggled since a 2015 currency crisis triggered by the slump in oil prices. The European Bank for Reconstruction and Development is currently studying Kazakh banks with a view to possible equity investments this year, potentially including the country's oldest private lender, people with knowledge of the matter said in December.
The lender, Bank Centercredit, was the first private bank in Kazakhstan and only the fourth in the former Soviet Union when it was set up in September 1988. It has risen to become the fifth-largest Kazakh lender by assets in the past three years, while seven other banks collapsed under the weight of bad loans following a slump in oil prices and currency devaluation.
Centercredit benefited from 60 billion tenge ($159 million) in state support via bond sales in 2017, the same year the government rescued the country's biggest lender at cost of 2.4 trillion tenge. In return, the central bank got the right to convert the debt into equity if covenants linked to the deal are breached, including by making any deliberately non-repayable loans or purchasing services above their market prices.
The bank's difficulties -- emblematic of the country's financial system -- haven't ended with that capital boost. S&P Global Ratings downgraded Centercredit's outlook to negative in July last year, saying in a report: "The pace of problem-asset workout has been slower than expected."
And now Centercredit is under investigation by the Finance Ministry's economic crimes department over alleged related-party lending involving its chairman, Bakhytbek Baiseitov, less than a year after it received the state aid.
Businessman Bekzhan Kulbayev claimed he was pressured into taking a $6 million loan from Centercredit to pass on to two companies nominated by Baiseitov, in return for approval of a further $6 million loan that Kulbayev sought to complete his purchase of a Kazakh oil producer.
Centercredit, which received requests for Baiseitov and Chief Executive Officer Galim Khusainov to comment, denied any wrongdoing and rejected Kulbayev's allegation.
The bank last month sent a demand to Kulbayev's oil producer, TOO Flamma, to repay the loans ahead of schedule, saying it defaulted on the terms on Dec. 25. Kulbayev said Centercredit "artificially created conditions" to prevent his company repaying the loan so that it could seize its assets.
The central bank declined to investigate Kulbayev's original complaint and the Interior Ministry closed an initial probe. The Finance Ministry took up the case after the Prosecutor General's office intervened in response to a complaint from Kulbayev and demanded an additional inquiry into alleged "abuse of power by the management of AO Bank Centercredit including B. Baisetov and others."
The Finance Ministry's economic crimes department said the probe is continuing, but declined to give details. The central bank said it didn't take up the case because an investigation had been opened by the Interior Ministry. The ministry confirmed it began an inquiry but declined to comment further.
Centercredit issued the loans in June 2018 and Kulbayev said he sent $6 million to the two companies named by Baiseitov, TOO Mangystau Oil Resources and TP Energy. Mangystau, which got $4.8 million as payment for delivery of pipes and equipment, had been registered as a company three weeks earlier.
The company, which didn't deliver the goods, agreed to pay 1.55 billion tenge to Flamma when the two sides reached an out-of-court settlement in March 2019 that was approved by Almaty's special economic court.
Mangystau isn't affiliated with Centercredit or Baiseitov, said Akbar Tulegenov, whose company, TP Energy, received a 35% stake in Kulbayev's oil producer.
TP Energy, which got $1.2 million, was founded a month earlier by Tulegenov, the business partner of an independent director on Centercredit's board at the time. Anuar Ushbayev, the board member, said he had no affiliation with TP Energy and didn't sit on Centercredit's lending committees. He left the board in April last year.
The money TP Energy received was for equipment and to refinance some of Flamma's own obligations under an agreement that expires at the end of 2020, Tulegenov said.
Whatever the central bank concludes on the health of individual lenders including Centercredit this month, Tokayev has already given his judgment.
Kazakh banks still need "urgent" improvements as part of "deep, possibly radical reforms" to revive the economy, he told the government. "Otherwise, the consequences may be serious," he said.