Billionaire Versus Billionaire: Meat Kings Clash With Pulp Heir
(Bloomberg) -- Joesley and Wesley Batista, the Brazilian meat tycoons who were embroiled in a corruption scandal last year, now find themselves in the middle of a bizarre pulp dispute with the heir to Indonesia's Widjaja family.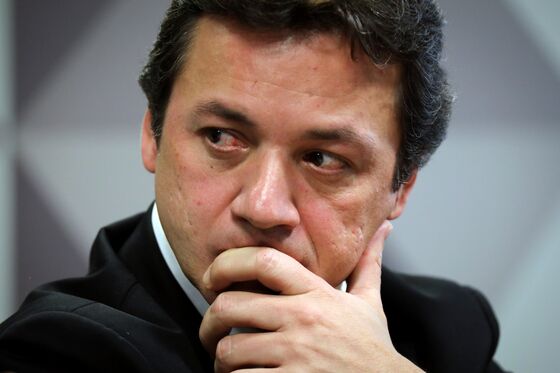 A year ago, the Batista brothers agreed to sell Eldorado Brasil Celulose to Paper Excellence Group, a Netherlands-based company owned by Jackson Widjaja, the grandson of Indonesian mogul Eka Widjaja. The 15 billion-real ($4 billion) bid, seen as too rich even for larger Brazilian pulp rivals to match, came as a timely windfall for the Batistas, who were rushing to shed assets after bribery confessions rattled their JBS SA meat empire.
But early last month, the Batistas' holding company J&F said it was ending the agreement after Paper Excellence missed a 12-month completion deadline. Widjaja's company, which had already bought a 49.4 percent interest in Eldorado, would remain as a minority holder while the Brazilians would retain control, J&F said. Eldorado is run by Aguinaldo Ramos Filho, the 25-year -old nephew of Wesley and Joesley, who also has a seat on the JBS board.
That prompted Paper Excellence to open an arbitration process against J&F in Sao Paulo. The Dutch company with operations in Canada and France says it has the money to complete the deal and accuses the Batistas of sabotaging it by creating obstacles after a surge in pulp prices swelled Eldorado's equity value, according to court documents seen by Bloomberg.
Eldorado's $350 million in notes due 2021 have returned 8 percent over the past year, compared with a 1.7 percent loss by an index of emerging-market corporate debt.
Extra Money?
People close to Paper Excellence said that at an August meeting in Los Angeles -- in which both Widjaja and Ramos Filho participated -- J&F demanded an extra 6 billion reais to close the deal. A person close to J&F says that figure was inferred in a preliminary and informal discussion on terms of a potential new sale agreement requested by Widjaja.
According to J&F, the dispute wasn't over price but Paper Excellence's inability to free up 8 billion reais in collateral, including JBS shares, that the Batistas had offered to secure bank loans to Eldorado. That was a "crucial" precondition for Paper Excellence to take control, J&F said in a statement.
According to Paper Excellence, most creditors -- including development bank BNDES -- refused new collateral for the loans and said they would only release J&F guarantees if more than 5 billion reais in debt was paid in advance by Eldorado, court documents show. BNDES declined to comment.
As an alternative, Paper Excellence suggested injecting capital into Eldorado -- or lending it the money through pre-export payment loans -- so the pulp maker could pay creditors and release the collateral. J&F refused, arguing that would mean diluting the Batistas' sway in the company. It also said Paper Excellence took full responsibility for releasing the guarantees, and that changing Eldorado's shareholding or capital structure to make it happen wasn't something the Batistas should be forced to do under terms signed last year.
Bidding War
A legal action by Paper Excellence demanding J&F accept the terms has been denied by two Brazilian judges, who supported J&F's arguments.