Billionaire's Nuclear Plan to Test Frosty Poland-Russia Ties
(Bloomberg) -- Polish billionaire Zygmunt Solorz is considering becoming an investor in a nuclear project in Russia's Kaliningrad exclave, testing his country's resolve to cut energy ties with its resource-rich eastern neighbor.
Solorz is betting that his plan -- which includes constructing a power link between the two countries -- would allow Poland to import cheaper electricity and at least partly offset the surging costs of burning coal.
The Polish government, which hasn't commented on the proposal, has for years systematically cut its dependence on Russian energy by finding alternative supplies of crude oil and natural gas. Solorz has been investing in solar and wind energy in Poland after his ZE PAK SA unit said it would close its lignite-fired plants this decade.
Solorz, who owns the country's largest media and telecommunications company Cyfrowy Polsat SA, has also set his sights on nuclear power. One of the options under consideration is buying a stake in Rosatom Corp.'s project in Kaliningrad, a region the size of Connecticut that's wedged between Poland and Lithuania.
"Poland needs to have access to clean and cheap electricity and it needs this to happen as quickly as possible," Solorz's spokesman Tomasz Matwiejczuk said by email. "A sudden rise in power prices will directly hit the competitiveness of the Polish economy."
Solorz may seek to take part in Poland's own fledgling nuclear power project, but he said it could take "many years" to complete at a time the country's coal-based power industry is quickly becoming a burden as the cost of using the fossil fuel soars.
The price of carbon-dioxide emission permits has more than tripled over the past three years, increasing electricity costs for the European Union's most coal-reliant nation. Poland plans to cut the usage of coal to as little as 11% of power production in 2040 from 70% at the moment.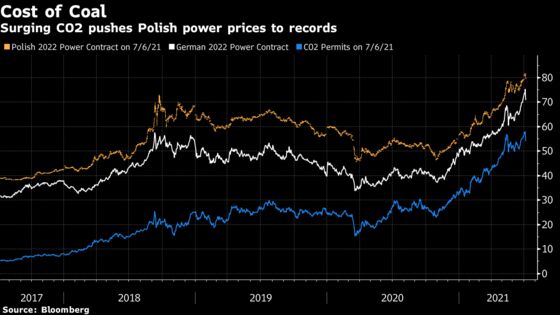 Matwiejczuk declined to comment on a report by Polityka Insight that Solorz may partner with Hungarian state-owned MVM Zrt. in the Kaliningrad project. MVM is already working with Rosatom on expanding its nuclear plant in Hungary.
MVM didn't respond to requests for comment from Bloomberg News, while Rosatom said it was "open for dialog with interested parties" without specifically referring to any potential partners. The project envisages the construction of two units with a combined 2.3-gigawatt capacity.
While Hungary has been boosting its energy ties with Russia, Poland has built a liquefied natural gas plant and is in the process of constructing a gas pipeline to Norway to reduce its dependence.
The Polish government has repeatedly accused Russia of seeking to rebuild its Soviet-era domination over eastern Europe in part by keeping the region dependent on its energy supplies. Warsaw has also led the EU's opposition toward the undersea Nord Stream 2 gas pipeline to Germany, which circumvents traditional transit nations such as Poland and Ukraine.
Potential Polish involvement in the Kaliningrad project may also be frown upon by the Baltic states of Lithuania, Latvia and Estonia, who are in the midst of cutting their own links with the Russian power grid.
But the biggest question for Solorz is whether the Polish government, which needs to sign off on the potential cross-border electricity link, will re-evaluate its stance on working with Russian energy companies.
"Instead of being afraid of foreign companies acting here, Polish companies, together with professional partners, are ready for expansion abroad, also to markets that until now seemed beyond our reach," his spokesman said.