Michael Spencer Takes on Oil Exec, Wife in Insider-Trading Spat
(Bloomberg) -- An investment firm controlled by British billionaire Michael Spencer is turning private prosecutor, and has accused an oil executive and his wife of attempting insider trading.
FCFM, which is chaired by Spencer, alleges that Peter Young and his wife tried to buy stock in a small oil firm on the eve of a major acquisition, which caused the shares to gain more than 170 percent. The couple deny the allegations and said they wanted to buy the stock in good faith.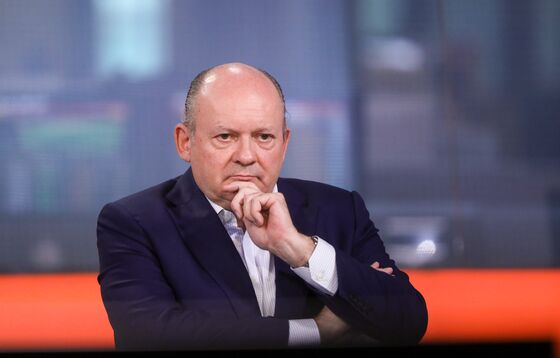 The investment firm was dealt a setback on Thursday, when a London judge rejected its attempt to get hold of the Youngs' private phone records and trading data. Calling it an "extremely ambitious attempt," Judge Martin Griffiths said FCFM had other legal routes, including a related civil case.
"There has been no conviction, no indictment, no charge and as far as we're aware, no charge is imminent," Griffiths said.
FCFM wants to gather additional evidence for a potential private prosecution, according to court filings. The firm said that in October 2017, Peter Young, a former Standard Chartered Plc banker, may have been tipped off by an insider about a major transaction. Young attempted to buy shares in a minnow oil stock, RockRose Energy Plc, as late as the evening before the announcement.
"His desire to complete the share transaction became increasingly desperate," Jack Watson, a lawyer for FCFM, said in filings. "It is clear that a criminal offense is likely to have been committed."
Private prosecutions require the same standards as a typical prosecution and remain under the oversight of government agencies, which can choose to take over the case at any time. Such prosecutions generally aren't available in the U.S. In the U.K., the Financial Conduct Authority is the agency responsible for prosecuting insider-dealing.
Kevin Heath, a lawyer for the Youngs, said the FCA had informed them on April 27 that it had decided not to take any action after a preliminary review of RockRose shares. The couple made separate stock purchases from holders other than FCFM.
"We have heard nothing from the FCA since then," Heath said.
As for FCFM, its lawyers said the case had been referred to prosecution authorities but it had no update about the stage of the investigation. The FCA didn't comment.
The company, which has separate lawyers pursuing the potential private prosecution, declined to comment.
Spencer, a former treasurer of the U.K. Conservative Party, and a long-time supporter of former prime minister David Cameron, took control of FCFM in June 2017, according to records at Companies House. The billionaire built his fortune after co-founding the world's largest inter-dealer broker, ICAP.
FCFM said that Young may have received information on the deal from Jon Fitzpatrick when they met at an event held in Pall Mall, at the three-century-old wine merchants Berry Bros & Rudd. Fitzpatrick, a mergers and acquisitions adviser, was assisting RockRose. Young called the meeting nothing more than a "chance" encounter where they had a general conversation about RockRose and Young's desire to invest.
In FCFM's court filings, Fitzpatrick denies disclosing price-sensitive information to Young. He put Young in touch with RockRose's brokers after the executive told him he wanted to make an investment, Fitzpatrick said.
After originally offering 115 pence a share to buy FCFM's holding in RockRose, Young upped his proposal to 125 pence a share. The offer came an hour before the close of trading on the day before an announcement where the company disclosed plans for a reverse takeover of Idemitsu Petroleum U.K. Ltd., FCFM said. As part of the deal, RockRose announced a dividend payment of 150 pence per share.
The stock soared to 345 pence from 127 pence when the stock began trading again after a short suspension.
The legal spat started when the Youngs filed their own lawsuit in March, saying they entered into a sales contract to purchase 187,500 pounds ($244,000) of shares in RockRose from FCFM. They said that FCFM head Jason Granite agreed to the sale and then refused to complete the transaction after the Idemitsu deal was announced, saying the timing was suspicious.
"We believe that it is the loss of profit on the shares that is behind FCFM's refusal to complete the transaction," Heath said. "FCFM's allegation that we acted improperly in buying these shares is offensive and without merit."
Young said that he took a "keen interest" in developments in the oil-and-gas sector and followed RockRose's progress closely including reports by analysts and blogs.
FCFM countered by saying "the financial situation of RockRose continued to appear relatively weak." It said: "the prospect for a significant increase in the near future was highly speculative."
As for FCFM's attempt to gain access to private data, Griffiths was skeptical.
"The basis of the allegation is essentially limited to the timing of the negotiations," the judge said. "And the fact of contact with the person who is said to be an insider."
"You have the big fact and the small fact and nothing else," he said.
The civil case is Peter Young, Fiona Young v. FCFM Group Ltd., High Court of Justice - Business and Property Courts of England and Wales, Case No. BL-2018-000598.