Billionaire Retail Titan Can Avert Downgrade: Chile Fixed Income
(Bloomberg) -- Cencosud SA, the South American retail giant founded and led by billionaire Horst Paulmann, has what it takes to avoid a credit downgrade even as Chile's economy reels from the biggest social unrest in decades.
That's the message investors got after Cencosud's dollar bonds due 2023, 2025 and 2027 returned 0.7% last week despite fresh warnings that a credit downgrade to junk is looming. That result beat the average return of all Chilean bonds in the period, as well as that of rival Falabella, whose 2025s returned a mere 0.3%.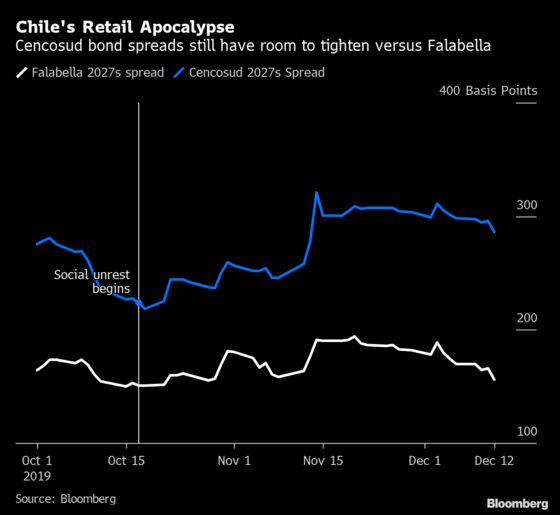 "Cencosud has a balance sheet full of attractive assets that it can sell to avoid a downgrade," said Jorge Garcia, a trader at financial services firm Nevasa. "The market is giving it the benefit of the doubt."
The South American nation's worst social unrest in a generation has led to higher uncertainty, shuttered stores and a drastic reduction in business. October retail sales plunged by 16% in Santiago and 12% nationwide compared to a year prior. Policy makers have warned that unemployment and consumer demand are set to worsen as the number of worker dismissals spikes.
Cencosud is currently rated at the lowest investment grade by Fitch Ratings Inc. and Moody's Investors Services, with negative outlooks. Fitch set the negative outlook on Nov. 21, saying unrest in Chile and a weak economy in Argentina will erode its results. Cencosud declined to comment on this story when contacted via email.
Earlier this year, Cencosud completed the IPO of its shopping malls in efforts to pay down debt. JPMorgan warned last week that the retailer may have to continue with sales of its assets, such as a greater share of its mall unit.
Read more: South America Retail King's $1 Billion Malls IPO Sets Record
In yet another rebuff, research firm Gimme Credit became the latest to sound the alarm on risks of a downgrade. If Cencosud is cut to junk, "the risk is high of more downside," analyst Cedric Rimaud wrote in a note last week.
Cencosud's dollar bonds due 2027 have returned a negative 4.6% since the beginning of the unrest on October 18, while its 2025s have fallen 2.1%, according to data compiled by Bloomberg. Similarly rated Chilean bonds have returned a negative 0.9% in the same period.
Other Chilean retail bonds have also been hit hard. The yield on AD Retail's 2024 local CPI-linked bonds rose to 19.1% from less than 4% when the unrest began, according to prices from LVA Indices. For Empresas Hites' 2026s, the yield is up to 6.7% from 2.1% on October 18.
Intervention Bearing Fruit
Two weeks into the central bank's multi-billion dollar intervention to prop up the peso, it was the best performing currency among emerging markets with a 1.9% gain last week. Accordingly, Chile's monetary authority has reduced its spot market interventions to $100 million a day, while boosting forwards, as volatility subsides.
Swap yields last week fell more than 30 basis points, signaling views of lower risk. The drop was bolstered by news that President Sebastian Pinera survived an impeachment attempt.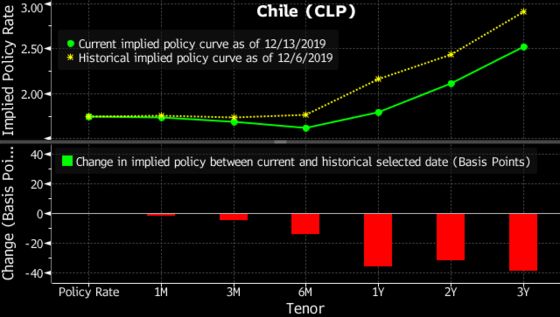 The market will pay attention this week to the Central Bank's minutes of its Dec. 4 meeting in which it left its key rate unchanged at 1.75%.
In Chile:

Dec. 19: Central Bank minutes

International:

Dec. 16: U.S. manufacturing PMI
Dec. 17: U.S. industrial production
Dec. 18: U.K. CPI
Chile's Volcom Securitizadora Plans to Sell 2 Series of Bonds
Chile Govt Says Head of Budget Office Rodrigo Cerda Resigns
Analyst See Chile Economy Posting Sharp Drop in November: Survey
Chile Economists See Key Rate Left on Hold Next Meeting: Survey
Cencosud Downgrade to Junk 'Looming', Gimme Credit says
Chilean Peso Leads Global Gains Amid Ongoing Intervention
Chile's Pinera Approval Rises After Reaching Record Low: Cadem
BONDS IN PROCESS OF REGISTRATION OR ISSUANCE:
| Company | Amount to issue | Term | Rating |
| --- | --- | --- | --- |
| Volcom Securitizadora | 760,000 UF | 30 years | AAA (ICR & Humphreys); AA+ (ICR), AA (Humphreys) |
| Tecno Fast | 4m UF | 30 years | A+ (Feller Rate and ICR) |
| Colbun | 7m UF each | 10 and 30 years | AA-(cl) [Fitch]; AA (Feller Rate) |
| Copeval | 2m UF | 10 years | BB+(cl) [Fitch] |
| Sigdo Koppers | | | A+(cl) [Fitch] |
| Vina San Pedro Tarapaca | 1.5m UF each | 10 and 30 years | AA-(cl) [Fitch] |
| Corporacion Universidad de Concepcion | 5m UF | 20 years | A- (ICR) |
| Grupo Empresas Navieras | 5.5m UF | 30 years | A-(cl) [Fitch] |
| Caja Los Andes | 2.5m UF (2 series); CLP69.9b (2 series) | 7 years each | AA- (ICR y Humphreys) |
| Rutas del Desierto | 6.4m UF | 22 years | |
| A3 Property Investments | 5m UF | 10 and 30 years | A (ICR & Feller Rate) |
| Red Salud | | | A(cl) [Fitch] |
| Mall Plaza | 10m UF each | 10 and 30 years | AA+ (Feller Rate); AA(cl) [Fitch] |
| Inmobiliaria Nialem | 3m UF | 10 and 30 years | A+ (Feller Rate) |
| Fondo de Inversion Independencia Rentas Inmobiliarias | 7m UF | 10 years | AA-(cl) [Fitch]; AA (Feller Rate) |
| Inversiones Prevision Security | 1.5m UF | 30 years | A+(cl) [Fitch]; A+ (ICR) |
| Compania Industrial El Volcan | | 10 and 30 years | AA- (ICR & Feller Rate) |
| Embotelladora Andina | 10m UF | 10 and 30 years | AA(cl) [Fitch]; AA (ICR) |
| Ruta del Limari | 6.8m UF | 24 years | A+ (Feller Rate) |
| Nexus Chile Health | 1.5m UF | 10 years | A- (ICR & Humphreys) |
| Enaex | 2.5m UF each | 10 and 30 years | AA-(cl) [Fitch]; AA (Feller Rate) |
| AVLA | 1m UF | 10 years | A- (ICR) |
| Forum | 30m UF | 30 years | AA(cl) [Fitch] AA (ICR) |
| Aguas del Altiplano | 2.2m UF | 15 years | AA (Feller Rate) |
| Aguas Araucania | 2.2m UF | 15 years | AA (Feller Rate) |
| Aguas Magallanes | 1.1m UF | 15 years | AA (Feller Rate) |
| Ruta del Algarrobo | 11m UF | | |
| Global Soluciones Financieras | 3m UF | 10 years | |
| Caja La Araucana | CLP331.2b and CLP75.6b | | BBB (Feller Rate); BBB- (Humphreys) |
| Inversiones Confuturo | 2m UF | 25 years | AA- (Feller Rate & ICR) |
| General Motors Financial Chile | 4.3m UF | 10 years | AA-(cl) [Fitch] |
| SMU | 3m UF | 8, 10 and 25 years | A- (Feller Rate & ICR); BBB+ (Humphreys) |
| Inmobiliaria Apoquindo | 3m UF | 9 years | |
| Infraestructura Alpha | 1.5m UF | 12 years | A- (Feller Rate) |
| LV-Patio Renta Inmobiliaria | 2.5m UF | 10 years | A+ (Feller Rate & ICR) |
| Gama Servicios Financieros | 5m UF | 10 years | A (ICR) |
| Brookfield Americas Infrastructure Holdings Chile | 9.5m UF | 12 years | A (Feller Rate) |
| Blumar | 3m UF | 10 and 30 years | A- (Feller Rate) |
| Penta Financiero | 3m UF | 10 years | A+ (ICR) |
| Red Megacentro | 3m UF | 10 and 30 years | A+ (ICR); A (Feller Rate) |
| Quinenco | 10m UF each | 10 and 35 years | AA (cl) [Fitch]; AA (Feller Rate) |
| Date | Company | Amount | Placement rate | Maturity |
| --- | --- | --- | --- | --- |
| November 20 | Caja de Compensacion 18 de Septiembre | CLP54b and CLP40b | 4% and 7.55% | 6 and 10 years |
| November 12 | Incofin | 1m UF | 2.54% | 5 years |
| November 5 | Banco Internacional | 1m UF | 2.08% | 28 years |
| October 29 | Watt's | 1m UF | 1.5% | 10 years |