Billionaire Perelman's VTv Sinks on Alzheimer's Drug Setback
(Bloomberg) -- VTv Therapeutics Inc. plunged as much as 35% on Wednesday, the biggest drop for the biotech in more than two years, after an experimental medicine failed to slow cognitive impairment in Alzheimer's patients.
In fact, patients with mild symptoms of the disease who got VTv's drug, azeliragon, suffered a greater decline than those getting a placebo in the 43-person study. Those who got the medicine saw their cognitive function drop by 1.8 points on a measure known as the ADAS-cog14 test, while placebo patients saw a 0.35 decline, the company said in a statement.
The biotech, which is majority held by billionaire Ronald Perelman and his company MacAndrews & Forbes, plans to continue to analyze the results to determine if there is a path forward in Alzheimer's or other dementia related conditions. While many drugmakers have been chasing after treatments for the potentially lucrative age-related condition, Alzheimer's, like many other neurological diseases, remains notoriously hard to treat.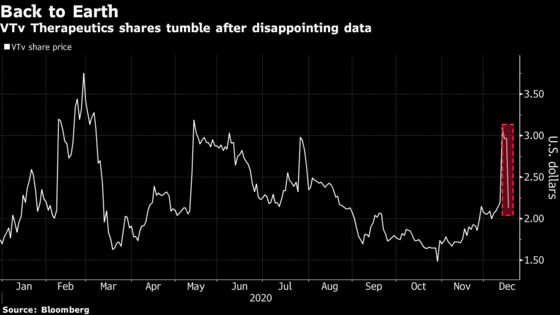 Shares fell 24% to $2.24 at 10:34 a.m. in New York. VTv's stock had been volatile in the days leading up to the study results, more than doubling intraday Friday. Shares had advanced more than 80% from its March lows through Tuesday.