Billionaire Drahi Takes it Down to the Wire at Altice
(Bloomberg Opinion) -- Patrick Drahi is making a late bet to strengthen his hand, ready for when the billionaires atop the French telecommunications industry get around the negotiating table to plot the next round of consolidation in 2019. For now, at least, it's weakened his position.
Drahi's Altice Europe NV reported earnings on Wednesday that fell short of analyst estimates as the parent of SFR spent more than expected on promotions to lure new subscribers. Drahi and his cohort say that spending will decrease in the fourth quarter and start to translate into profit growth in 2019.
It's a big gamble. The earnings report came the same day as Stephane Richard, CEO of France's dominant carrier, Orange SA, told Les Echos he expected discussions about consolidation in the French telecommunications industry to restart in the first half. Any talks were put on hold until last month, when regulator Arcep completed a review of spectrum reallocation that was set to expire in 2021.
The quartet, which is rounded out by Bouygues SA and Iliad SA, is plagued by steep competition in France. The discounts Altice's SFR operation has had to offer underscore how tough the mobile market has become. The main source for optimism at Orange, Iliad and Bouygues in recent months has been the growth new customers opting for high-speed fiber optic fixed connections – something Altice hasn't benefited from so much.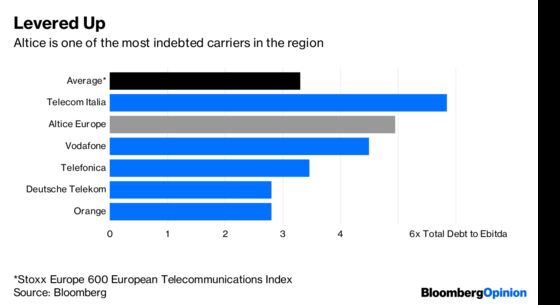 Meanwhile Altice is hobbled by one of the highest debt-to-Ebitda ratios in the European telecommunications industry, making it a ripe candidate for any deal. That's not to say that Drahi's rivals hold all the trump cards. Bouygues's capital expenditures leave it little headroom to expand spending on 5G networks, while Iliad's low-cost strategy is being increasingly matched by its peers. They too need a solution.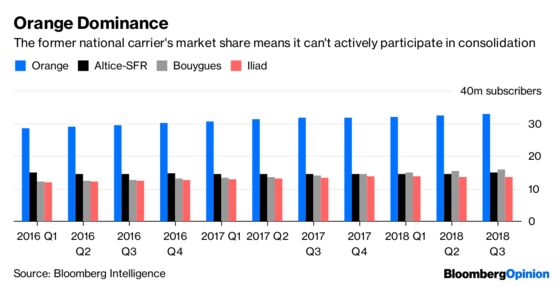 As ever, the main hurdle would seem to be the billionaires who control three of the four firms. While the French state is the biggest shareholder in Orange, Drahi also has to contend with Iliad's Xavier Niel and Martin Bouygues, the CEO of his eponymous firm. Given Orange's already dominant market share, the onus will be on the other three to find an agreement.
Drahi held discussions with Bouygues about a possible tie-up earlier this year. Bouygues proposed buying 51 percent of SFR, with a further 25 percent being acquired by a U.S. fund, leaving Drahi with the rest. The restriction to a minority stake would have kept Drahi, whose reputation has been built as a financial whizz, away from the operations of the new entity. The Altice founder walked away from the deal.
To reduce his debt pile, Altice is selling stakes in its cellphone tower businesses in France and Portugal, as well as its fiber network in France. While those steps might ease some of the pain, they don't resolve the underlying structural issue of price competition.
The disappointing earnings have placed Drahi on the backfoot in the short term when it comes to any deal talks. He hopes that the wager on new subscribers will pay off, and rebounding earnings next year will strengthen his hand. But he's cutting it fine.
This column does not necessarily reflect the opinion of the editorial board or Bloomberg LP and its owners.
Alex Webb is a Bloomberg Opinion columnist covering Europe's technology, media and communications industries. He previously covered Apple and other technology companies for Bloomberg News in San Francisco.