This Thai Stock Is Forecast to Surge 49% Within a Year
(Bloomberg) -- A 25 percent slump in the share price of Billionaire Aloke Lohia's Indorama Ventures Pcl doesn't have analysts worried. Instead, the stock is now rated the best equity buy among Thailand's largest companies.
Bangkok-based Indorama, with products ranging from Nestle SA packaging to materials for Zara clothing, is forecast to surge 49 percent within a year based on the gap between the current share price and consensus 12-month target among 19 analysts.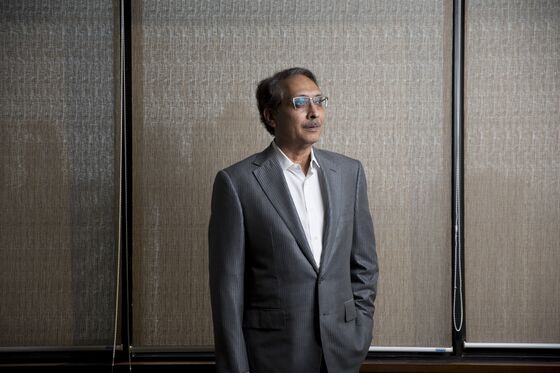 The company announced or completed acquisitions in Brazil, Nigeria, the U.S., Germany, Egypt and India in the past five months to diversify supply and boost margins, which have been squeezed on many chemical products because of higher feedstock costs. Shares lost about a quarter of their value since early October, when margins on ethylene in North Asia were near the narrowest in about three years, and have lagged the broader market as investors assess spreads in the chemicals industry.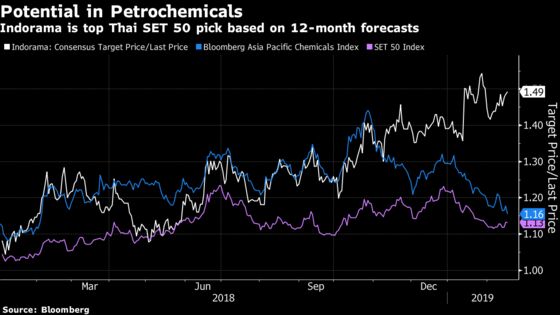 "With its global footprint, the company is well-positioned to manage margins, which are resilient in the U.S. and Europe, even though they are iffy in the Asia segment because we don't know what China is doing," said Maria Lapiz, managing director at Maybank Kim Eng Securities (Thailand) Pcl in Bangkok.
"Share price recovery will be predicated by spreads," she said. If its spread stays relatively resilient, that may lead to investors revisiting its business model, she added.
Indorama shares closed Monday at 46.25 baht, down 25 percent from Oct. 3. Maybank Kim Eng's 12-month target is 79 baht.
"Indorama remains our preferred pick in chemical space, premised on seasonal heavy demand for polyester chain products, a broad polyester chain up-cycle being in progress, and a strong profit growth profile," Suppata Srisuk, an analyst at Bualuang Securities Pcl, said in a report today. "Supply tightness (particularly in Europe and North America) should continue to buffer polyester chain product spreads."
Only two other firms among Thailand's largest 50 listed companies, Energy Absolute Pcl and Banpu Pcl, score a 12-month return potential of more than 30 percent. The average upside among SET 50 Index companies is 13 percent. It's 16 percent for the Bloomberg Asia Pacific Chemicals Index, which has 93 members.
Indorama is expected to report fourth-quarter results this week.
Lohia set up his company in 1994 in Thailand, where he has permanent residency. It now operates factories globally, under a strategy of localized manufacturing to serve regional markets.