Billionaire Albert Frere Held Sway Through Dealmaking, Wealthy Friends
(Bloomberg) -- Albert Frere spent his life creating one of Europe's largest fortunes. It's also one of the continent's most complex.
The Belgian billionaire, who died at age 92, controlled a dizzying array of holding companies built up over more than 50 years, while partnering with some of the world's wealthiest families on deals. It saw the investor exert an influence far beyond the scope of his $5.7 billion fortune.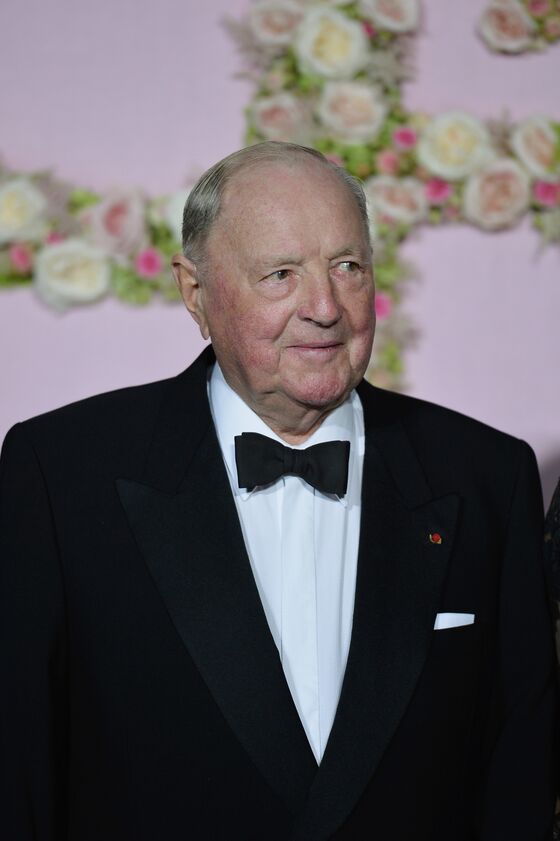 "Albert was an extraordinary man and a truly exceptional entrepreneur," Bernard Arnault, chief executive officer of LVMH, said Monday in a statement. "Throughout our thirty-five years of faithful friendship, we forged extremely close ties, both personal and professional."
Frere nurtured other deep relationships around the globe, including business dealings with the Canadian Desmarais family that date back almost four decades. He also traded with Italy's Agnelli clan and the German Mohn family. In 2014 he partnered with Thomas Schmidheiny of Switzerland, Nassef Sawiris of Egypt and Russia's Filaret Galchev in the merger of Lafarge and Holcim, which created the world's biggest cement maker.
Frere's most visible sway was centered around investment holding company Groupe Bruxelles Lambert SA, Europe's second-largest listed investment company whose 19 billion euros ($22 billion) of net assets include stakes in shoemaker Adidas AG and drinks provider Pernod Ricard SA, as well as LafargeHolcim Ltd.
Frere controlled GBL through another listed company, Pargesa Holding SA, which owns a 50 percent stake. He controlled Pargesa through a 56 percent stake in Parjointco NV, a Dutch holding company that Frere jointly controlled with the Desmarais family. That partnership meant Frere's $1.7 billion stake in Pargesa gave him control of GBL, whose market capitalization stands at $14.8 billion.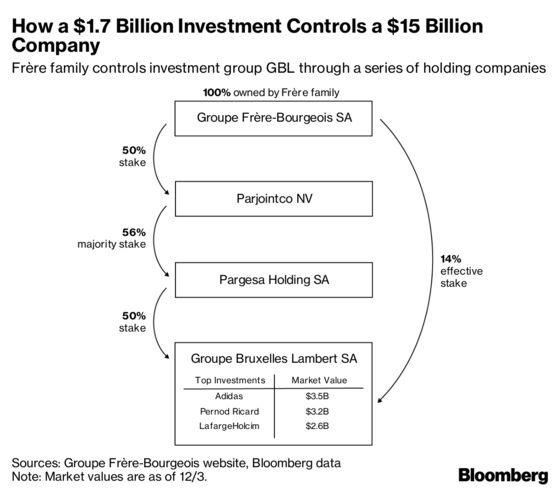 "Albert Frere was instrumental in the development of GBL and Pargesa and we will be forever grateful to him," Andre Desmarais said in a statement.
Frere's empire stretched beyond GBL. Holding company Groupe Frere-Bourgeois, wholly owned by his family, has net assets of 5.5 billion euros, according to its website. That includes about a $900 million stake in energy company Total SA and Cie. Nationale a Portefeuille, a closely held investment company with net assets of about 2 billion euros, including Bordeaux vineyard Chateau Cheval Blanc.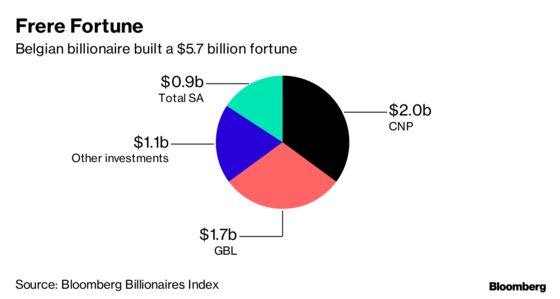 Frere owned the esteemed Premier Cru estate with Arnault. The relationship between the Belgian magnate and France's richest person extended back decades. Frere served as a director at LVMH, and their families were said to vacation together in the French Alps and Morocco. Arnault's ties to Frere were rumored to be one reason why the LVMH founder sought Belgian citizenship in 2012.
Such partnerships should endure beyond his death. The agreement with the Desmarais family over the two clan's equal control of GBL runs until 2029, according to a 2018 company filing. His son Gerald Frere, 67, is chairman of Groupe Bruxelles Lambert and vice chairman of Pargesa. Frere's daughter, Segolene Gallienne, 41, sits on the board of both companies.
Even in his 90s, Frere continued to move markets. News of GBL's purchase of a stake in fashion house Burberry Group Plc last year sent the shares soaring and when he sold in May, the stock tumbled. The transaction generated a $100 million capital gain for GBL.