Acquisitive Indian Billionaire Says He's Hungry for Deals
(Bloomberg) -- Kumar Mangalam Birla, the billionaire chairman of the acquisitive Indian conglomerate that bears his name, said he's hungry for more deals after creating the nation's biggest mobile-phone operator.
His Aditya Birla Group continues to look for targets in the U.S., Europe and India that make business sense and are likely to add value, the 51-year-old said at Bloomberg's India Economic Forum on Sept. 18 in Mumbai. He didn't specify any names.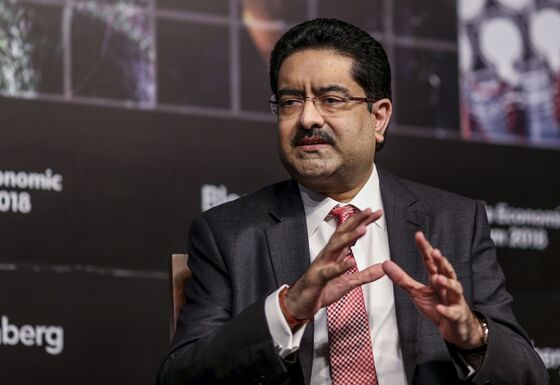 Birla, who runs a $44 billion conglomerate that sells everything from insulators to insurance, helps illustrate India's emergence as a mergers-and-acquisitions powerhouse, with transactions involving local companies setting records by exceeding $100 billion this year -- a trend that PwC India predicts will continue in 2019. One main driver: banks are tackling bad loans by putting companies owned by defaulters on the block.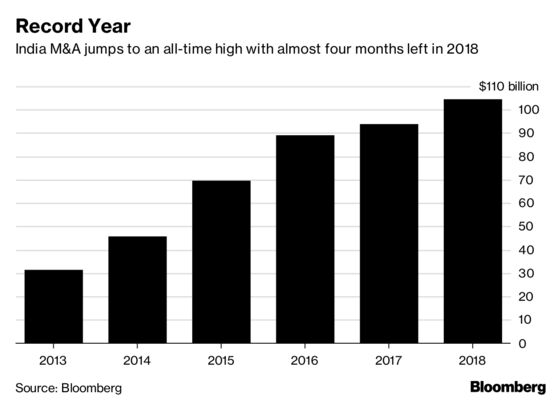 That's because the nation's central bank is pushing local lenders to restructure an estimated 3.6 trillion rupees ($49.6 billion) of soured loans in the wake of a new bankruptcy law implemented by Prime Minister Narendra Modi's administration. Indian banks, with more than $210 billion in stressed debt on their balance sheets, are suffering from the world's worst bad-loan ratios after Italy.
"This government is starting to address it and taking the bull by the horns. Bad loans have been around for a long time and just got brushed under the carpet," Birla said adding he expects most deal-making action around distressed assets. "That is the low hanging fruit."
Though he didn't name targets, Birla's track record indicates he won't just be spectating the expected flood of assets that will be put up for sale.
Birla has the tenacity to go to any lengths if he spots a good quality asset that's available at a reasonable price, A.K. Prabhakar, head of research at IDBI Capital Market Services Ltd., said by phone. "Once the group turns around one acquisition and free cash flow starts, they again go out to buy," he said.
His companies have carried out about three dozen deals in his chairmanship, with recent one being Birla's Idea Cellular Ltd.'s merger with the local unit of Vodafone Group Plc to create India's biggest carrier. In July, his Hindalco Industries Ltd. announced the purchase of Aleris Corp. for about $2.6 billion to tap global automotive metal demand. UltraTech Cement Ltd. is also seeking to buy distressed Binani Cement, though that pursuit is in a legal wrangle.
Part of Birla's appetite for deals is because of his optimism about India's economy, which he likened to an elephant that's starting to run. Gross domestic product grew 8.2 percent in the June quarter from a year earlier, the government said last month.
"You can't ignore India," Birla said. "There's no legitimate reason for not investing in India."