Billionaire August Von Finck Sells Most of His Stake in SGS
(Bloomberg) -- German billionaire August Von Finck completed the sale Tuesday of a majority of his stake in Switzerland's SGS SA, the world's largest testing company, boosting his already sizable cash pile.
He sold 960,000 shares valued at 2.3 billion Swiss francs ($2.4 billion) and retains a stake of about 3%, according to a statement. Von Finck, 89, didn't disclose a reason for the sale, and representatives for Von Finck and SGS declined to comment. The company's shares fell as much as 6.5% in response to the move.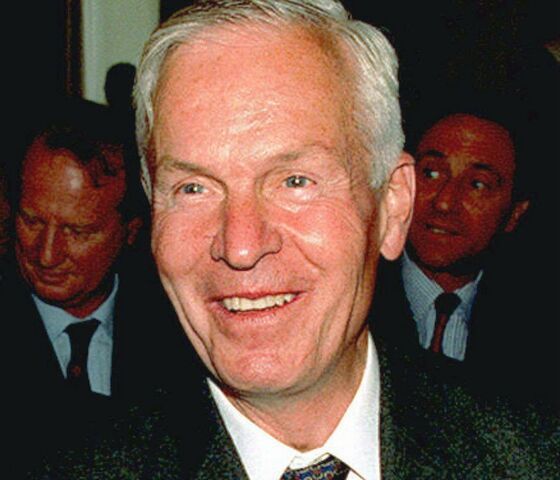 He and his family previously controlled 16% of SGS shares and made their fortune in banking. Von Finck is Germany's 11th-richest person with a $9.3 billion fortune, most of it in cash, according to the Bloomberg Billionaires Index.
Credit Suisse Group AG arranged Von Finck's offering, which was announced Monday. Groupe Bruxelles Lambert SA, SGS's largest shareholder, bought almost a fifth of the 12.7% stake that he sold. Belgium's billionaire Frere family holds an indirect stake in the firm, whose assets include stakes in Adidas AG and Pernod Ricard SA.
"We thank the von Finck family for their long-term support and commitment to the SGS group," Peter Kalantzis, SGS chairman, said in Tuesday's statement.
Von Finck's sale exceeds the $2 billion he collected in 2007 with the disposal of his family's stake in a German construction company and $1 billion from a previous sale of SGS stock.
The Von Fincks founded German private bank Merck Finck Privatbankiers AG. Von Finck inherited Merck Finck Privatbankiers and became chief executive officer after his father's death in 1980. A decade later, he sold his stake to Barclays Plc for about $150 million. He used the proceeds to invest in other companies, including hotel and restaurant chain Moevenpick as well as Geneva-based SGS, which provides industrial inspection, analysis, testing and verification services.