Biggest U.S. Coal Miner Taps Grech as CEO as Kellow Bows Out
(Bloomberg) -- Peabody Energy Corp., the biggest U.S. coal producer, named James Grech to be its next chief executive officer as the industry faces a long-term decline in demand for the fuel.
Grech, the CEO of the Utah-based coal company Wolverine Fuels, will take over at Peabody June 1, according to a statement Monday. Peabody said in March that its current chief Glenn Kellow would step down by August.
The transition comes as global demand for coal is expected to wane in the coming years, as utilities shift away from the dirtiest fossil fuel. While consumption this year is seen increasing as the world starts to emerge from the coronavirus pandemic, that will likely be a short-term bump.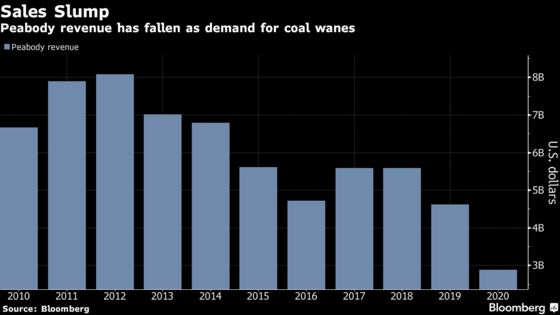 Other U.S. rivals, notably Arch Resources Inc., are seeking to exit the thermal coal market that supplies power plants to focus on metallurgical coal used to make steel. After Peabody and Arch were blocked last year from forming a joint venture to manage their thermal mines in the U.S. Powder River Basin region, Arch said it would seek divest those assets while Peabody remains committed to those mines and the thermal fuel industry.
Kellow was promoted to Peabody's top job in 2015, and led the company through a restructuring the following year. Its shares have slumped more than 85% since it exited bankruptcy in 2017 and revenue last year was $2.9 billion, down almost two-thirds from it's 2012 high.
(Michael Bloomberg, the founder and majority owner of Bloomberg LP, the parent company of Bloomberg News, has committed $500 million to launch Beyond Carbon, a campaign aimed at closing the remaining coal-powered plants in the U.S. by 2030.)