Biggest Nordic Bank Sees Scope for Thaw After Recent IPO Freeze
(Bloomberg) -- The Nordic listings market has cooled off in recent months, with several companies canceling their initial public offerings amid plunging stock prices.
But the biggest Nordic bank isn't ready to call an end to an environment that has produced a record number of listings in recent years. "It's far too early to say that the positive fundamentals for the IPO market we've seen in recent years are gone," Mathias Leijon, co-head of Nordea Bank Abp's Corporates and Institutions unit, said in an interview in Stockholm.
The slide in stock prices has taken a toll on the appetite to sell shares to the public. Companies that have recently postponed their IPOs include Finland's Smile Henkilostopalvelut Oyj, Norway's ICE Group AS, Hansen Protection ASA and Denmark's Adform A/S. And back in September, Swedish carmaker Volvo Cars delayed its IPO due to global trade tensions.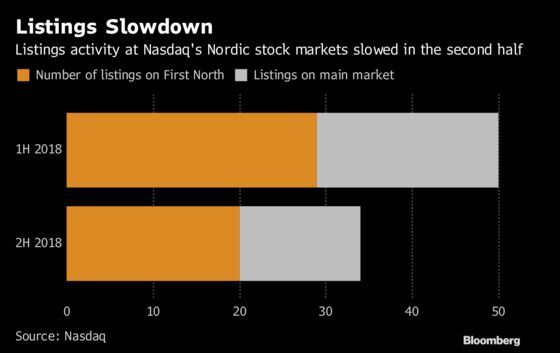 Leijon said that while a number of IPO mandates have been delayed until next year, there is scope for "a reasonably good" market in 2019. But for that to happen, there needs to be a period of stability and the price expectations of buyers and sellers need to meet, he said.
Nasdaq Nordic President Lauri Rosendahl said in a recent interview that he expected a flurry of activity in the final months of this year, with as many as 30 additional listings. Adam Kostyal, head of European listings at Nasdaq, said that delays to IPOs are a natural part of a volatile market and that they shouldn't necessarily be interpreted as the listings not happening at all.
Nasdaq has "a good pipeline" for late 2018 and early 2019, Kostyal said.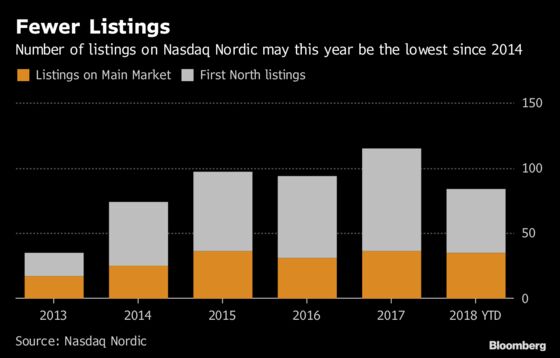 The Stockholm All-Share Index has dropped more than 10 percent since the end of September amid concerns about global trade wars and a weakening outlook for the global economy. One beneficiary has been investors seeking buyouts from Nordic stock markets.
CVC Capital Partners on Tuesday offered shareholders in Ahlsell AB almost $2 billion to buy out the remaining three quarters of the Swedish building-products supplier, whose shares have slumped amid worsening global markets. Other takeovers include Ramsay Generale de Sante's 8.19 billion-krona ($894 million) purchase of Swedish healthcare provider Capio AB and Schorling & Partners AB buying investment firm Melker Schorling AB.
"The public to private market is still very active," Leijon at Nordea said. "But corporate driven M&A with clear cost synergy benefits have also been very well received and this segment is also expected to continue to be active."
The Nordic M&A market will in 2019 be driven by sectors such as shipping and the technology, media and telecom industry, he said.