Dubai's Biggest Bank Bets $3.2 Billion on Turkey's Wild Ride
(Bloomberg) -- By most accounts, Dubai's biggest bank got a good deal when it agreed to buy Turkey's Denizbank AS for $3.2 billion. The question is whether that's enough to make up for entering a market under pressure from all sides.
Emirates NBD PJSC is buying the lender from Russia's Sberbank at a time when the country is struggling with a plunging currency, a wave of debt restructurings, looming elections and political meddling in the finance industry. The purchase is both Turkey's largest M&A deal since 2012 and the Dubai bank's biggest acquisition.
The deal is "a vote of confidence in the Turkish banking sector from the U.A.E.," said Timothy Ash, a strategist at BlueBay Asset Management in London. "I think most people view Turkey as a very interesting long-term banking market."
Turkey's highly-competitive banking sector, with 51 lenders and $737 billion of assets, is struggling as a supply of government-backed credit starts to run out. President Recep Tayyip Erdogan is pressing banks to keep extending loans at interest rates that barely make up for inflation. They're also being squeezed by the lira that's fallen to a record low against the dollar and have already had to restructure $17 billion in loans.
The deal's saving grace may be its price, which seemed to please analysts and investors. The purchase was agreed at 1.17 times book value at the end of October, although that multiple is expected to decline to about 1.05 to 1.06 times book value after including profit since then and subtracting interest payments, according to the Dubai-based lender. Plus the Turkish lira has plunged 18 percent this year.
Emirates NBD closed up 8.4 percent to 10.7 dirhams in Dubai. The lender has gained 30 percent this year and is the best performer among 37 members of the DFM General Index, which is down close to 12 percent in 2018.
While the price broadly accounts for Turkey's risks "any economic and political issues that put further pressure on the lira will be challenging," said Monsef Morsy, head of financial analysis at CI Capital in Cairo. "Further weakness would put pressure on asset quality and lower lending rates, which would weigh negatively on bank profitability."
Limited expansion opportunities at home have made Turkey an attractive market for Gulf-based lenders in recent years. Qatar National Bank bought National Bank of Greece SA's Turkish unit in 2016, paying slightly less than book value. Commercial Bank of Qatar took full ownership of Alternatifbank AS the same year. With a young and under-banked population of over 80 million, Turkey gives Gulf investors dynamics they can't find domestically.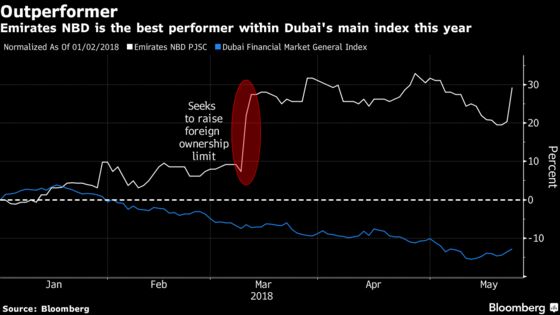 "Although the Turkish economy outlook is entering into a challenging phase, the timing of the acquisition is in favor of Emirates NBD" due to the currency's decline, said Tariq Qaqish, managing director of the asset-management division at Mena Corp. Financial Services LLC in Dubai.
Denizbank, which mainly offers retail and corporate banking as well as loans to the agriculture and tourism industries, posted a first-quarter net profit of 603.6 million lira ($131 million).
"The deal is an important step for Emirates NBD to compete with other regional banks like QNB," said Sergey Dergachev, a portfolio manager helping oversee about $14 billion in assets at Union Investment Privatfonds. "Without being present in Turkey, it would be quite difficult."