Biggest Buyout Financings Steamroll Over Investor Safeguards
(Bloomberg) -- The year's biggest buyout financing, backing the $20 billion acquisition of Thomson Reuters Corp.'s spinoff, Refinitiv, is challenging some hard-won investor protections.
Arrangers are taking advantage of strong demand for the $13.5 billion debt package to weaken key covenants. They're also pushing the deal through quickly, limiting the time buyers have to analyze all the small print. It's a similar story for debt that's financing the buyout of Akzo Nobel NV's specialty chemicals unit. The deals are bucking a trend of investor pushback in Europe this year.
"Investors should be wary of buying paper with such sparse protections ahead of a potential economic downturn during which investors will need the full force of a strong covenant package," said Sabrina Fox, head of European high-yield research at Covenant Review LLC.
In recent months power has shifted back in favor of high-yield investors, particularly in Europe, where at least 11 deals have either been delayed or withdrawn so far this year, and swathes of transactions that priced were heavily amended. Europe's loan investors have secured documentation or pricing changes on 89 percent of deals so far this year, with deals now likely to see an average of six changes during syndication, according to a research report by Debt Explained.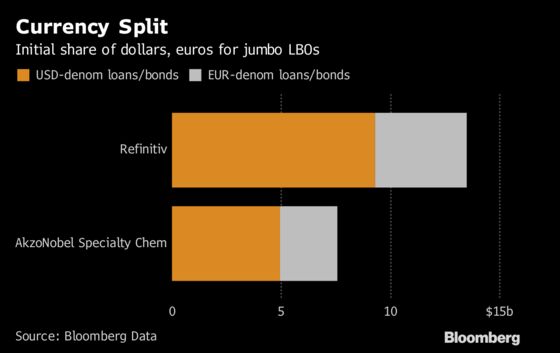 Blackstone Group LP, which leads a consortium buying a majority stake in Thomson Reuters Corp.'s financial terminal business, is seeking greater freedom to pay dividends or stock repurchases even in default. The terms of the funding arrangements also include a so-called mutation to the restricted payments covenant, allowing for the distribution of assets to equity holders even if the company becomes distressed.
"It's hard to keep up with all the tricks and traps buried in the covenants," Xtract Research analyst Justin Smith wrote in a report on Tuesday.
Commitments for Refinitiv's term loans have been brought forward to Friday from Sept. 17 while next week's Paris and Amsterdam bond meetings were canceled, suggesting the notes will also see an accelerated timeline.
Some looking at the transactions have highlighted a time lag in the documentation from when they were underwritten by the arranging banks to the actual launch date. The terms for both AkzoNobel Speciality Chemicals and Refinitiv may have been agreed as far back as the first quarter of the year, people familiar with the transactions said.
"Ebitda adjustments on new issues are significant with Refinitiv standing out," said Uli Gerhard, a senior portfolio manager at Insight Investment Management Ltd., which manages $791 billion of assets. "How much you promise and how much you deliver is the question."
Blackstone is touting cost savings by pitching a 35 percent earnings boost over three years, pushing up Ebitda to $2.53 billion. While pro-forma adjustments have become commonplace in credit markets, Refinitiv's adjustment is seen by some as significantly higher than average.
"Both Akzo and Refinitiv are established businesses but one has to look in the context of where we are in the economic cycle, cashflow generation, management and past behavior of the sponsor. Investors need to be very careful on the documentation around any deals these days," Gerhard said.
Similarly, the terms of the debt financing backing the acquisition of AkzoNobel Speciality Chemicals have sparked concern at at least one major rating company.
The "covenant package provides very weak protection because the covenants include a large number of unusual provisions like allowing asset sale proceeds to be used to make dividends and other restricted payments," Lisa Gundy, Senior Covenant Officer at Moody's Investors Service, wrote in a note.
Bloomberg LP, parent company of Bloomberg News, competes with Thomson Reuters and the division that is being partially sold in providing news, data and analytics for Wall Street traders.