Big Short's Eisman Ends Bet Against Tesla, Calling It Cult-Like
(Bloomberg) -- Steve Eisman, the investor made famous by betting against subprime mortgages before the 2008 financial crash, said the recent run-up in Tesla Inc.'s stock is inexplicable and is instead bullish about General Motors Co.
Eisman, whose wagers against the housing market were chronicled in Michael Lewis's 2010 book "The Big Short," told Bloomberg Television he covered a short against Tesla that he first disclosed in July 2018.
"Look, everybody has a pain threshold," Eisman told Bloomberg TV's Tom Keene. "When a stock becomes unmoored from valuation because it has certain dynamic growth aspects to it, and has cult-like aspects to it, you have to just walk away."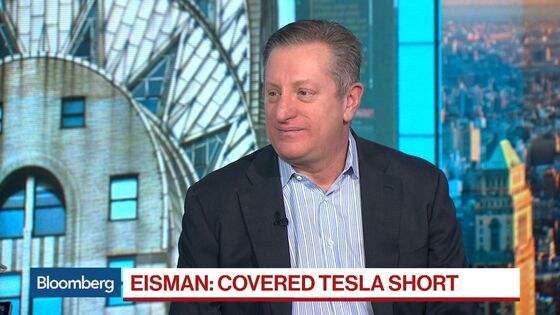 Tesla fell as much as 5.4% before the start of regular trading Wednesday, after surging 36% in two days. The stock has more than doubled already this year.
Eisman, a senior portfolio manager at Neuberger Berman Group, said the investment firm owns GM, which he called "reality on the ground" relative to the "dream" Tesla bulls have: that the company will continue to dominate the electric-vehicle market.
GM "used to be a poorly run company with a terrible balance sheet and terrible products, and today it's got a great balance sheet, it's got very good management and it's no longer in Europe," said Eisman, who was bullish on the company a year and a half ago. "It's really not a car company anymore, it's really a truck company that also sells SUVs very profitably and it has a real division called Cruise which is a real option on autonomous driving."
GM, which reports earnings and hosts an investor day, rose as much as 0.7% before the start of regular trading.