Big Pharma Grants License to Kill Drug Programs as Costs Surge
(Bloomberg) -- Big Pharma is looking for good kills, and its own labs are the hunting ground.
Industry executives long trained to sniff out blockbuster drugs are now having to hone another skill: a feel for medicines that are unsafe, unoriginal or just unlikely to succeed. As costs escalate, knowing when to terminate those medicines has become just as important as when to move forward.
At AstraZeneca Plc, research boss Mene Pangalos figures he shut down about half the projects in the pipeline after joining eight years ago. "The way you get good kills is 'I've tested the hypothesis and it does or doesn't work,"' Pangalos said in an interview. "Fundamentally, it's about being ruthless with your decision-making.''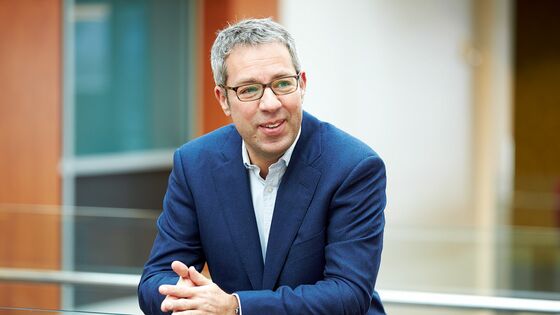 The newfound willingness to cull fledgling medicines represents a shift in an industry that used to look proudly on voluminous pipelines, figuring more projects in the lab meant more chances a handful of drugs would survive grueling clinical tests and reach pharmacy shelves.
But drugmakers like Astra, Novartis AG and GlaxoSmithKline Plc can no longer afford as many shots on goal as they grapple with unprecedented financial pressure: research and development costs are ballooning even as insurers and governments demand lower prices for the finished product. Bringing a new medicine to market costs about $2 billion, according to Deloitte LLP -- an investment that's increasingly tough to make up in sales.
Following a drug to a dead end "becomes part of the baggage and the bloat" that prevents companies from being nimble, said Nooman Haque, managing director of life sciences and health care at Silicon Valley Bank's U.K. unit. "If I'm an investor I'd like to see more of that offloading."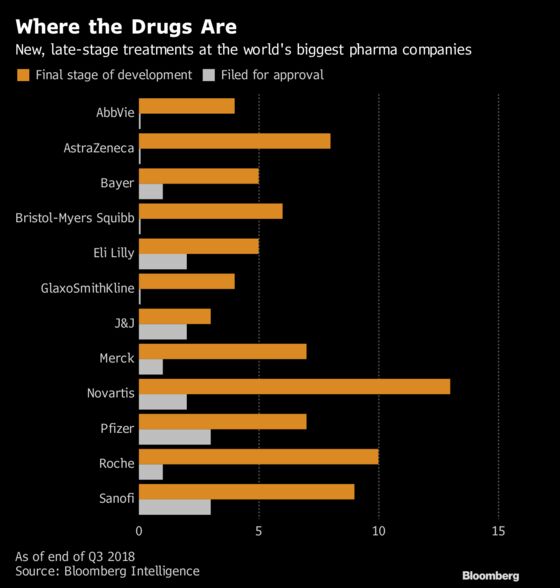 Part of the effort requires changing the culture among researchers. Astra and U.K. rival Glaxo are working on that by calibrating the incentives to advance drugs into the next stage of development.
"If you reward progression, you will get progression," Glaxo R&D chief Hal Barron told a conference audience in London last month. He wants scientists to "thoughtfully evaluate the data and kill molecules that aren't going to work."
Glaxo made the bet that surgery was a necessary step to boost efficiency and brought in Barron, a veteran drug hunter with hits such as the Avastin cancer treatment on his resume, to shore up R&D.
The company said in July that it had cut or farmed out 65 drug programs from its pipeline, seen as one of the industry's weakest, since CEO Emma Walmsley came on board a year-and-a-half ago. Glaxo halted work on five experimental drugs in October, including one for severe lung disease. The rest is still under review, Barron said in an interview.
New products are the ticket to growth and without them, pharma profits flounder. Astra has released treatments for cancer and heart disease in recent years that helped lift its market value above that of Glaxo for the first time. Meanwhile, Glaxo fell the most in a decade on Dec. 3 after announcing a $5.1 billion acquisition, raising concern that it was overpaying to bolster its pipeline.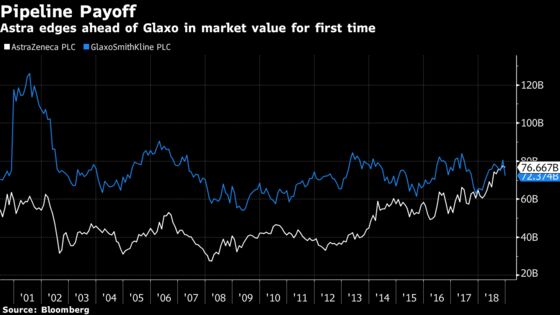 Laboratory discovery and animal testing are costly, but efforts that reach the final stage, only to wither in expensive human trials -- or worse yet, pass regulatory muster and later prove unsafe -- siphon hundreds of millions of dollars that could be put to better use. Astra had such a setback this year when an experimental lupus treatment failed in advanced human testing.
"The data looked amazing" right up until the late-stage disappointment, Pangalos said at Astra's offices in Cambridge, England, where the company is spending more than half a billion pounds to build a haven for its researchers. "We're still studying what happened."
With pressure on Big Pharma mounting -- U.S. prescription prices could be 30 percent lower in real terms by 2030, according to HSBC analyst Steve McGarry -- companies are under the gun to be first to market with medicines that can truly make a difference.
"Payers are no longer willing to pay for anything that's only slightly better," said Mads Krogsgaard Thomsen, the chief science officer at Denmark's Novo Nordisk A/S, which has halted work on about 10 insulin programs as it focuses on new ways of treating diabetes and obesity. "It has to be breakthrough innovation."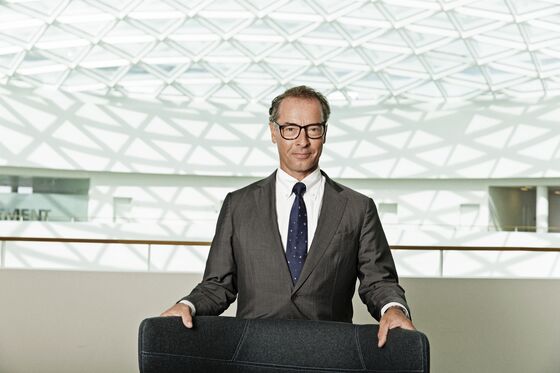 So drugmakers are harnessing artificial intelligence, machine learning and robotics to help stamp out anything that looks like a lemon. An Astra laboratory combines the technologies to repeatedly test and modify drug candidates, burnishing them into forms that are chosen for effectiveness and safety.
It's a fine line to tread in an industry where a barren pipeline remains an embarrassment. Bayer AG this month pledged to spend more on research to revitalize its spindly stockpile of new drugs, but that failed to revive its share price, which has dropped almost 40 percent this year.
Novartis is also snuffing out dozens of drug projects, reducing the total number of research programs by a fifth. Easier-to-reach products that follow competitors just won't cut it, according to research honcho Jay Bradner. The Swiss drugmaker is betting on cell and gene therapies that hold the potential for dramatic results, or even cures, like its breakthrough Kymriah cancer treatment. Even within the most important areas, like oncology, Novartis is looking to divest some treatments.
"We think that within our internal discovery engine we should reach for the highest-hanging fruit," said Bradner, president of the Novartis Institutes for Biomedical Research. "To do what's hard."
It's the same process Pangalos went through eight years ago when he realized how low Astra had sunk in developing new drugs. At the time, about 4 percent of the company's drug candidates hurdled all their clinical tests; after he hived off scores of them and instituted a tough-love system for moving projects forward, the rate rose to 19 percent.
New management teams often sweep out the R&D closet, Pangalos said. But he's kept the number of programs down, moving quickly to cut non-performers and finding partners to develop those that look doubtful. Setbacks are inevitable: The flame-out of the high-profile Mystic study last year cost Astra billions in market value and cast doubt on a drug combination that included its lead cancer drug in development.
But that treatment, Imfinzi, proved itself in early-stage lung cancer and became a growth driver. Astra has regained all the lost share value and then some. The future laboratory sits amid a campus with $1 billion in life-science facilities under construction.
Pangalos said his goal is to become more like the famed U.S. biotech Genentech, now a unit of Switzerland's Roche Holding AG, which has delivered high success rates for years.
"That's kind of an aspiration of where we'd like to be," he said. "We've done it for a period. Right now it's a blip; if we do it for another five or ten years, I'd say we're doing okay."