Big Dipping Company Bonds Attract Cash-Rich Investors in Europe
(Bloomberg) -- Large price swings are making a comeback in Europe as high-grade investors burned in last year's bear market become more sensitive to company-specific bad news. In some cases, though, the credit risk is being mispriced, enabling managers flush with cash to profit from dips when company bonds recover.
"We did take the opportunity to add to some of our corporate hydrid positions that widened in some cases by over 150 basis point in the 12 months to December," said Paola Binns, a portfolio manager Royal London Asset Management, which manages 119 billion pounds ($154 billion) of assets.
"We also added to some subordinated bank positions again after sharp falls in price predominately in the last 2 months of 2018--all of which have bounced back substantially in January," said Binns.
Europe's investment-grade market has so far this year experienced high levels of volatility with 53 bonds seeing their valuations swing by 5 price points or more, according to data compiled by Bloomberg. That compares to only seven bonds in the same period of 2018 and 15 issues in 2017, when the European Central Bank's bond-buying program was firing on all cylinders.
Fund managers have hoarded cash amid fears that investors would pull even more money from credit funds that suffered big outflows last year, Societe Generale strategists Juan Esteban Valencia and Guy Stear wrote in a Feb. 1 client note. But these outflows haven't materialized and investors now need to find a home for their cash.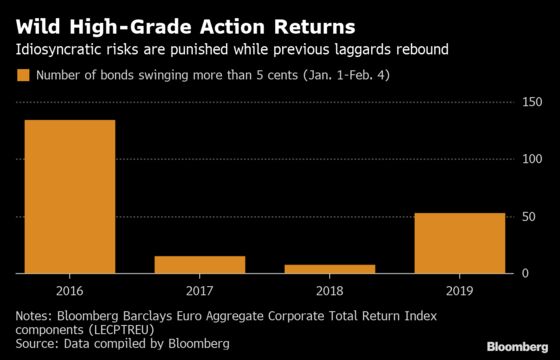 A recent string of blowups and subsequent recoveries for issuers including Vale SA, Metro AG and Esselunga SpA shows the gains that can be had.
Italy-based Esselunga's 500 million euro notes due in 2027 slumped to as low as 90 euro cents earlier this month after its major shareholders sought to seize full control of the business by ousting two family heirs. That presented an opportunity for bottom-fishers to move in and buy the notes, helping push the price back up to 93 euro cents, prices compiled by Bloomberg show.
While some investors say that Esselunga's bonds don't currently compensate for the broader retail market risk, Rob Orman, an analyst at Henderson Global Investors, would "consider stepping in once the name is BB+, given there are likely to be forced sellers on a downgrade to junk."
Read More: Esselunga May Lose IG Status at S&P on Owners' Minority Buyout
Resco Asset Management's Alex Eventon is another investor keeping a watchful eye on potential bargains in Europe's credit market. "If spreads in general are pinned at tight levels then investors are occasionally prone to disproportionately punish individual companies, which can be great for throwing up opportunities to pick up bonds."
Asked about dip buying generally, Eventon said: "Spreads need to stabilize first then we can have a sustained period where that is exactly what we will be doing."