Biden Seeks Support for Economic Agenda on Trip to Pennsylvania
(Bloomberg) -- President Joe Biden sought to generate public support for his economic agenda on Wednesday with a trip to his childhood hometown of Scranton, Pennsylvania, as Democrats wrangle over a scaled-back plan.
"These bills are about competitiveness versus complacency, about expanding opportunity, not having opportunity denied," Biden said, pointing to funding for public transit, rail lines, high-speed internet and environmental cleanup, among other things.
The White House is hoping Biden's first trip to Scranton since becoming president will focus attention on his legislative agenda, which has been at the center of congressional discord for months.
The president spent much of Tuesday talking with key lawmakers to try to broker an agreement on the multi-trillion-dollar tax and social spending package that Democrats are trying to pass along party lines. A deal on that would clear the way for the House to act on a bipartisan infrastructure bill that has already passed in the Senate.
He floated the outline of a possible compromise in the $2 trillion range with cuts to the child tax credit expansion, home care and an elimination of free community college on Tuesday as a way to bridge differences between party progressives and moderates. The package could still include a measure to expand or temporarily remove the cap on the federal deduction on state and local taxes.
The compromise would be a sizable cut to the original $3.5 trillion White House proposal and likely would result in elimination of some proposals, like Biden's bid for two years of tuition-free community college, and force other to be curtailed or narrowed.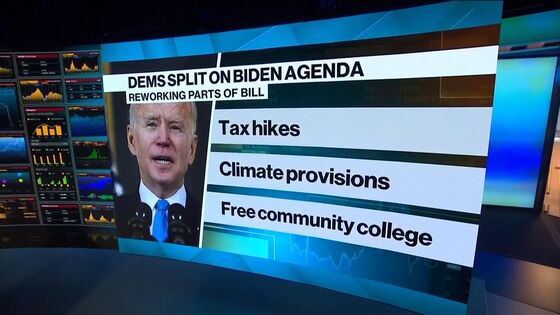 Congressional Democrats including Speaker Nancy Pelosi on Wednesday said that no final decisions had been made on those or other aspects of the package as talks continue.
Speaking aboard Air Force One, White House Press Secretary Jen Psaki did not dispute reporting that the community college provision wouldn't survive as written.
"The president knows that he is not going to get everything he wants in this package," she said. "What we are focused on is what we are going to achieve out of this. One of the objectives is certainly making community college more accessible and affordable to people in this country." 
Biden said that without his proposals, the U.S. risks "losing our edge as a nation." "Our infrastructure used to be the best in the world," Biden said.
He said the U.S. has to invest in resilience. "We don't give up," the president said. "We invest."
Biden's proposals would create high-paying jobs for those without four-year degrees, and provide "breathing room" for the middle class, he added.
Biden has told lawmakers he's eager to strike a deal before he heads to Europe at the end of the month for meetings with world leaders, including a climate summit in Glasgow, Scotland. Activists and allies have warned that the climate forum risks failure if the U.S. does not arrive with legislative commitments toward reducing its own greenhouse gas emissions. 
House Democrats have also said they're hoping for an agreement to avoid a lapse in transportation funding, which expires at the end of the month. Senate Majority Leader Chuck Schumer said congressional leaders are pushing for a "framework" by the end of the week on a package of tax increases and programs to fight climate change and expand federal support for education, child care and health care. 
Biden has been seeking to rally public support by regularly talking about his proposals, and with the visit to Scranton and a town hall planned for Thursday in Baltimore. White House aides argue his proposals remain popular even as they concede that many Americans are unaware of what's included in Democrats' legislation.