Biden Enlists Dimon, Fraser to Pressure GOP on Debt Limit
(Bloomberg) -- President Joe Biden enlisted financial and corporate leaders to help him pressure Republicans to stop blocking efforts to suspend the U.S. debt ceiling, warning that the government faces a first-ever default that would tank the economy.
Biden hosted a mostly virtual meeting at the White House with several chief executive officers, whom he asked to explain how a default would impact their businesses, customers and the broader economy. 
"We're going to be defaulting on a debt that would lead to self-inflicted wounds that would risk the market tanking and wiping out retirement savings," he warned.
"If they don't want to do the job, just get out of the way," he said of Republicans.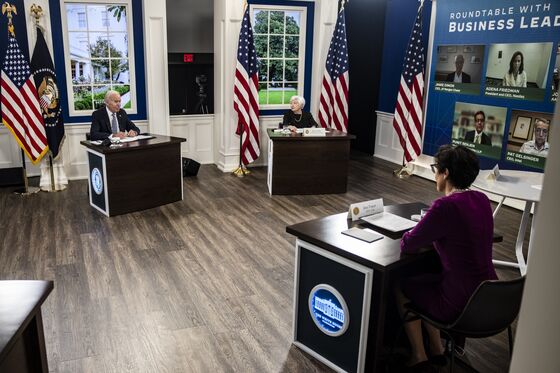 Later Wednesday, the Senate Republican leader, Mitch McConnell of Kentucky, offered to allow Democrats to raise the debt ceiling by a sufficient amount to tide the government over until about December, delaying the partisan dispute without resolving it.
Chief executive officers invited to attend Biden's meeting included Citigroup Inc.'s Jane Fraser, Bank of America Corp.'s Brian Moynihan and JPMorgan Chase & Co.'s Jamie Dimon, as is Adena Friedman, president and CEO of Nasdaq Inc.
Greg Hayes, CEO of Raytheon Technologies Corp.; Charlie Oppler, president of the National Association of Realtors; Jo Ann Jenkins, CEO of the AARP; Punit Renjen, global CEO of Deloitte LLP; and Pat Gelsinger, CEO of Intel Corp., were also invited. 
"Defaulting is going to cause lasting damage to the credibility of the United States with investors and in financial markets around the world," Fraser said. "We just cannot wait until the last minute to resolve this. We are, simply put, playing with fire right now."
The meeting was hastily assembled as the federal government careens toward a potential first-ever default on its debt. The White House contacted some of the companies about participating only on Tuesday afternoon, according to two people familiar with the matter.
"We should never even get this close. There are huge economic costs already being borne" by companies, Dimon said. He said lawmakers should "get rid of the debt ceiling" to avoid future disputes.
The president and CEO of Nasdaq Inc., Adena Friedman, said financial markets would react "very, very negatively" if the ceiling isn't suspended or increased, warning that "we are starting to experience elevated volatility in the markets" because of the uncertainty.
Treasury Secretary Janet Yellen joined Biden in-person at the meeting. She has said the country will exhaust its extraordinary measures to avert breaching the debt limit around Oct. 18 -- meaning lawmakers have less than two weeks to solve the problem. 
"It's unnecessary and it must be avoided at all costs," she said. "Congress must address the debt limit immediately."
Senate Majority Leader Chuck Schumer was poised on Wednesday to make his third attempt in nine days to proceed with a measure suspending the nation's debt ceiling until December 2022. With Republicans promising to filibuster the legislation, it had little prospect of passage. The Senate delayed that procedural vote in the wake of McConnell's short-term debt-increase offer, with the Republican and Democratic leaders of the chamber expected to confer on a path forward later.
Republicans have been demanding that Democrats raise the ceiling using a procedure called budget reconciliation, which bypasses the filibuster. But reconciliation rules would require Democrats to raise the ceiling to a specific, multi-trillion dollar figure, rather than simply suspending it -- giving Republicans a line of attack in next year's midterm campaigns.