Biden Targets Louisiana Bridge in Infrastructure Sales Pitch
(Bloomberg) -- President Joe Biden traveled to Louisiana on Thursday to garner support for his $2.3 trillion infrastructure plan, speaking in front of a dilapidated bridge that both Republicans and Democrats have pledged to rebuild.
"I know the times have been tough here," said Biden, who lost the state to former President Donald Trump in the 2020 election. "I believe you need the help."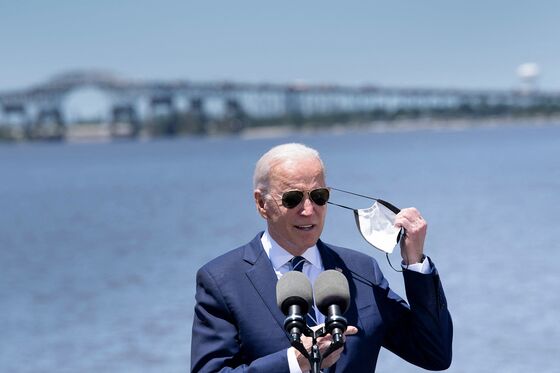 The president spoke from near the Calcasieu River Bridge, deemed by engineers to be in poor condition and in need of repair. The administration said the crossing provides a key example of why lawmakers should pass Biden's funding package, which would provide $115 billion in funding for roads, bridges and highways.
"It shouldn't be this hard or take so long to fix a bridge that's so important," Biden said. "It makes no sense."
The fate of Biden's infrastructure proposal -- along with his $1.8 trillion families plan that focuses on mainly social spending and tax hikes on wealthy individuals -- rests with the narrowly divided Congress.
Passing the spending and tax increases envisioned by Biden will depend on where lawmakers can find compromise. But with Democrats less united on the overall size of the proposals than they were in approving Biden's $1.9 trillion virus aid package earlier this year, the new spending plans could be debated by Congress well into the fall or even 2022.
Biden's trip to Louisiana comes during a week when several top administration officials are traveling to key swing states to promote the president's spending plans to pressure lawmakers to pass them this summer.
Biden went to Virginia earlier in this week, while Vice President Kamala Harris traveled to Wisconsin and Rhode Island, where she advocated for greater access to broadband and more affordable childcare in a series of appearances. First lady Jill Biden is visiting Colorado and Nevada this week.
The administration is trying to counter GOP arguments against Biden's plans. Senate Minority Leader Mitch McConnell referred to the Biden proposals as a liberal wish list. On Tuesday, McConnell said, "100% of my focus is on stopping this new administration." Other top Republicans have questioned Biden's proposed tax increases on corporations and the wealthy to cover the costs.
In Louisiana, Biden plans to visit the Carrollton Water Plant, which purifies New Orleans' sewage and water. The plant isn't operating at full capacity, according to a White House memo, due to water main breaks and other equipment failures. Biden's infrastructure package proposed spending $111 billion on water infrastructure and the replacement of lead service lines.
Biden isn't the first president to focus on the Calcasieu River Bridge, which opened in 1952 and is crossed more than 80,000 times a day. In 2019, then-President Donald Trump callled for rebuilding the bridge.