Biden Says Omicron Means More Mild Breakthrough Infections
(Bloomberg) -- President Joe Biden said that the omicron variant of the coronavirus will result in more breakthrough infections among vaccinated Americans -- "potentially in large numbers" -- but that they are very unlikely to be severely ill.
Especially for people with booster shots, he said in a speech at the White House Tuesday, a breakthrough infection mostly likely will mean "no symptoms" or mild disease. He said the vaccinated should proceed with Christmas plans.
Biden noted that former President Donald Trump has publicly revealed having received a booster -- "maybe one of the few things he and I agree on," he said. For the unvaccinated, however, the president warned that a winter of severe illness and death awaits.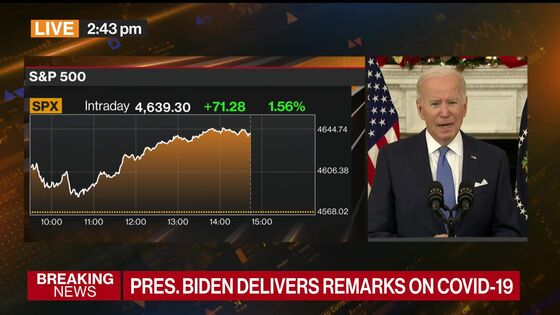 "We should all be concerned about omicron -- but not panicked," Biden said. "If you're fully vaccinated, and especially if you got your booster shot, you are highly protected. And if you're unvaccinated, you're at a higher risk of getting severely ill of Covid-19, getting hospitalized and even die. So the best thing to do is to get fully vaccinated and get your booster shot."
Biden and the White House have sought to counter perceptions the administration was caught flat-footed by the rapid advance of omicron, which has quickly become the dominant U.S. strain. Complaints about shortages of coronavirus tests are widespread, and Biden acknowledged that the country is "not where we should be," though he said he had used wartime powers to advance the production of a billion more test kits.
"It's not enough. We have to do more, we have to do better -- and we will," he said. "I don't think anyone anticipated that this would be as rapidly spreading as it is."
Unanticipated demand for tests, he said, has stretched supplies. "All of a sudden it was like everybody rushed to the counter."
The president outlined a new strategy to curb omicrom, including ordering 500 million at-home tests to ship free to Americans. He also said he'll dispatch 1,000 members of the military to support hospitals and set up new testing and vaccination sites.
Biden also encouraged schools, many of which have recently chosen to close early for the holidays after outbreaks among students and staff, to adopt so-called "test-to-stay" strategies to keep children in class.
"We can keep our K through 12 schools open, that's exactly what we should be doing," he said. "K through 12 schools should be open" and should require all adults working within them to be vaccinated, he said.
He cautioned that omicron spreads so easily that the country would see many more cases. 
"There'll be positive cases in every office, even here in the White House among the vaccinated, from omicron," he said. "But these cases are highly unlikely to lead to serious illness."
Just in Washington, D.C., there were more than 3,700 new cases from Friday to Sunday, the Washington Post reported -- by far a record for the pandemic.
For more coverage
Omicron Protection Data from Mix-and-Match Jabs Coming Next Week
The 500 million tests will be available starting in January, and will be shipped free to Americans who request them. It's not clear how many will be immediately available. 
The White House will also open new federal testing locations, including in New York City this week. In addition to deploying 1,000 troops to Covid-burdened hospitals, Biden ordered the Federal Emergency Management Agency to help hospitals add new beds as needed.
Crucially, it remains unclear how severe omicron cases will be. The U.S. is averaging 133,000 new cases a day over the past week, nearly double the totals of two weeks ago, though new hospitalizations have ticked down in the past few days.
Biden has rejected lockdown measures, saying he's intent on keeping schools and businesses open. His health officials are increasingly focused on hospitalizations and deaths as a better benchmark for the severity of the pandemic than raw case counts.
About 65% of eligible people in the U.S. aged 5 and up are fully vaccinated, according to data from the Centers for Disease Control and Prevention. About 32% of vaccinated adults have received a booster shot.
Experts predict holiday travel and family gatherings will fuel a winter wave of cases. Biden said some Americans wonder if they can safely celebrate the holidays.
"The answer is, 'yes you can,' if you and those you celebrate with are vaccinated, particularly if you got your booster shot," he said. "You've done the right thing; you can enjoy the holiday season."