Biden-GOP Optimism on Infrastructure Tempered by Tax Divide
(Bloomberg) -- President Joe Biden and Republican congressional leaders said Wednesday they see a narrow opening for compromise on infrastructure spending yet significant obstacles remain, particularly on tax increases sought by the administration.
Republicans indicated they're unwilling to budge from their opposition to the scope of Biden's plans or raising tax to fund them. That stance, and Washington's hyper-partisan environment, hung over the first White House meeting with the four congressional leaders and leave little room for striking a deal on the president's proposal.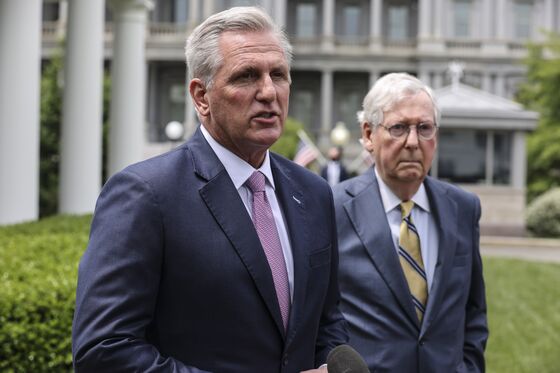 Biden acknowledged the ideological divide at the beginning of the nearly two-hour meeting, but said he would see if he could "reach some consensus on a compromise" on his infrastructure proposal with the House and Senate GOP leaders, Kevin McCarthy and Mitch McConnell.
"We're going to talk a lot about infrastructure today to see if there's any way we can reach a compromise that gets the people's work done and is within the bounds of why we ran," Biden said. "And that's the purpose of this meeting."
Asked by a reporter how he plans to do that, Biden joked, "easy, just snap my fingers, it'll happen."
McCarthy called the discussion with Biden "very strong" and said "there is a place where we can find bipartisanship," but insisted that he was committed to a much smaller package than Biden's $4 trillion jobs and families proposal.
He and McConnell said they had told Biden they would not revisit 2017 tax cuts enacted under former President Donald Trump, ruling out Biden's proposal to raise the corporate rate from 21%. "That's our red line," McConnell said.
Both Republicans also said that infrastructure should be defined in a more limited way than the White House envisions, restricting new spending to physical projects like roads and bridges. McCarthy told reporters later Wednesday that House Republicans would release a smaller proposal as soon as next week that will be less than $800 billion.
Biden included investments in broadband access, childcare and other programs in his plan. He indicated he would be open to breaking his package into pieces and passing those elements of it with only Democratic votes.
"I'm not going to give up on that, so we're going to fight those out," Biden said in an interview with MSNBC that aired after the meeting. "So I'm wanting to know, what can we agree on? And let's see if we can get an agreement, kick-start this, and then fight over what's left and see if I can get it done without Republicans, if need be."
The White House is ramping up efforts to advance the president's ambitious economic plans. Biden's meeting put his top Democratic allies in Congress, Senate Majority Leader Chuck Schumer and House Speaker Nancy Pelosi, in the same room together with McConnell and McCarthy.
"I am more optimistic now that we will do so in a bipartisan way," Pelosi said after the meeting. "But we'll see."
The timing is crucial -- the White House has said it wants to see Congress move legislation by Memorial Day. But the meeting also may help satisfy moderate Democrats who have insisted on outreach to Republicans as the plans are developed.
As a candidate, Biden said the relationships he built during his three decades in the Senate could help pass bipartisan bills through the closely divided Congress. But he received no Republican votes for his stimulus package, and finding agreement on his sweeping economic plans could prove even more difficult.
GOP lawmakers have balked at the price tag for his plans, which would dramatically expand the social safety net along with funding new roads, bridges and rail lines.
McConnell said last week that "100% of my focus is on standing up to this administration," a remark that put a damper on already slim hopes that Biden could leverage his personal relationship with the longtime Republican leader to strike deals.
Yet the president has continued to keep the door open to compromise. He has said he is willing negotiate on the size of the package and raise the corporate tax rate to a number lower than the 28% he proposed. He's planning to meet Thursday with a group of Republican senators -- led by West Virginia's Shelley Moore Capito -- who have proposed a slimmed-down infrastructure plan.
McConnell later took the edge off his comments about Biden, saying, "I like him personally" but still indicated he won't easily strike a deal with the president.
"I want to do business with the president, but he needs to be a moderate. He said he was going to be a moderate during the campaign. I haven't seen that yet," McConnell said in Kentucky.
McCarthy's presence in the meeting was a potential source of added tension. Earlier Wednesday, at McCarthy's urging House Republicans removed their third-ranking leader, Wyoming Representative Liz Cheney, in retribution for her criticism of former President Donald Trump, whom she blames for the Jan. 6 insurrection at the Capitol following his attempt to overturn Biden's election.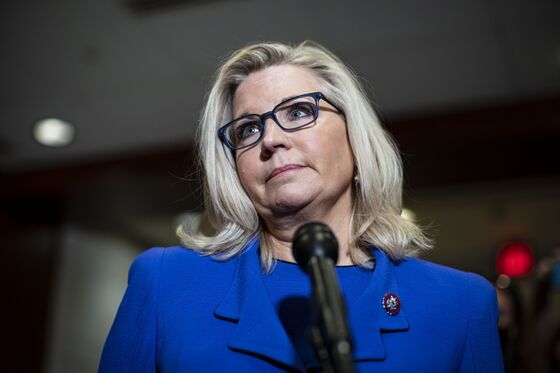 McCarthy has sought Trump's help to win control of the House in the 2022 midterm elections and has backed away from his own criticism of the former president.
But he said Wednesday after meeting with Biden: "I don't think anybody's questioning the legitimacy of the presidential election."
Biden meanwhile faces pressure from the left flank of the Democratic Party not to allow bipartisan negotiations to bog down his agenda. Liberals have been wary of dealing with Republicans ever since lengthy negotiations over President Barack Obama's health-care law resulted in a diminished package that no GOP lawmakers voted to pass.
Should Biden fail to reach a compromise with Republicans, Democrats in Congress could use a procedural maneuver -- known as budget reconciliation -- to force through at least parts of his proposal without any GOP votes.
To do that, the White House would need all Democrats to back his spending plans, given the 50-50 split in the Senate. Biden spent the early part of the week shoring up Democratic support, meeting with key moderates Joe Manchin of West Virginia and Kyrsten Sinema of Arizona, who have both expressed reservations about advancing Biden's agenda without bipartisan support.