Biden's Economic Plan Cuts U.S. Emissions By More Than a Gigaton
(Bloomberg) -- As President Joe Biden's Build Back Better plan wobbled toward a vote, it lost provision after provision in compromises meant to satisfy Democratic factions. Still, the White House says that the framework released Thursday morning would cut U.S. emissions by more than a gigaton.
"One gigaton and up is transformational," said Robbie Orvis, senior director of energy policy design at Energy Innovation, a San Francisco research group. "It's much more than anything that's ever been done by the U.S. Congress. And it really helps set the stage for continuing those emissions reductions through other actions by 2030 and beyond."
The plan, which awaits a vote in the closely divided Senate, is the centerpiece of Biden's agenda. Democrats said the framework was a welcome advance after a months-long stalemate, but some details remained fluid. Neither Joe Manchin nor Kyrsten Sinema, moderate Democratic senators, endorsed the plan, but it appeared to address most of their complaints. It still needs to pass muster with left-leaning lawmakers in the House of Representatives. The measure includes not only climate-change provisions, but universal preschool for 3- and 4-year-olds, subsidies for childcare costs and creates or expands other social-welfare programs.
"It looks like the White House's claims that the Build Back Better Framework will deliver 'well over a gigaton' of emission reductions by 2030 is very legit. Probably understated actually," tweeted Jesse Jenkins, a Princeton University professor who has been tracking the impacts of the bill's various provisions.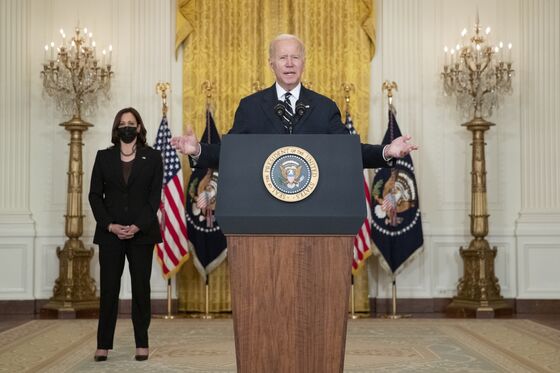 Biden came to office hoping to move the country to carbon-free electricity 2035 and make the entire economy carbon neutral by 2050, in line with scientific necessity. It seemed he might face an insurmountable obstacle this month when coal-friendly West Virginia Senator Manchin forced the removal of the Clean Electricity Payment Plan from the bill. That provision, which would have rewarded utilities for moving on from fossil fuels and punished them if they didn't, was seen as key to a swift transition.
The new bill's reductions of more than a gigaton match low-end projections made from a version that still had the Clean Energy Payment Plan. Biden pledged under the Paris Agreement that by 2030, the U.S. would  halve its 2005 emissions of 6.6 gigatons.
Josh Freed, senior vice president for climate and energy at Third Way, a center-left think tank, said that CEPP's defeat was a blessing in disguise. "As a result, they broadened the focus on what needs to be decarbonized to include the industrial sector, which is too often overlooked," he said.
The industrial sector is set to surpass the electric sector as the nation's highest source of emissions. The bill contains tax breaks to incentivize clean manufacturing and the nurturing of green hydrogen hubs, he said. It also contains plenty of goodies for the agricultural sector and consumers. Significantly, the plan targets money at red states and rural communities that have been slower to transition to clean power, Freed said, something that was overlooked by the Obama administration.
Throughout the bill, legislators jettisoned measures with a punitive component like the CEPP and taxes on products made in countries that aren't moving to cut carbon emissions. Instead, they relied almost solely on juicy incentives to encourage change. With all the sticks gone, the $1.75 trillion tax and spending framework calls for $555 billion to boost renewable power, electric vehicles and resilience to global warming.
The White House released a list of climate-friendly provisions the bill Thursday morning that included:
Cutting the cost of installing solar power for homes by 30 percent.
A tax credit to reduce the cost of an electric vehicle (as long as it is made in America with union labor) by $12,500 for a middle-class family.
Creating a Climate Conservation Corps with funding for 300,000 members.
Investing in coastal restoration and soil conservation that could reach 240,000 farms.
Biden wants to cut U.S. emissions 50% below 2005 levels by 2030. But when CEPP fell out of the bill, projections suggested the measure would reduce pollution to only about 35%. It's too soon to say with precision, but eliminating "well over a gigaton" of emissions could return the projected cuts to as much as 45%. 
Successful policy must wring CO₂ cuts from every part of the economy that produces emissions. The bill tries to reach many of them through grant and loan programs that would boost climate tech, said Joseph Majkut, director of the energy security and climate change program at the Center for Strategic and International Studies, a think tank. Two things to watch for, he said, are how a final bill will spread funding among emissions-reducing technologies, like power transmission or hydrogen production, and whether federal agencies have the capacity to execute.
"Turned into law, it will have significant impact on almost every major element of the energy system. It will surely make a significant dent in emissions, because we are set to throw a lot of money at the problem and the economics of clean energy are already sound," he said. "But we'll have to see if this will make a material difference to how countries think about the U.S.'s approach to climate. Americans are good at throwing a lot of money at problems, sometimes it works and sometimes it doesn't."
Although the measure doesn't include everything climate advocates wanted, there was broad agreement that the plan would represent a historic investment in fighting global warming that Biden can tout to leaders at the high-stakes United Nations climate summit opening Sunday in Scotland. 
This would certainly get us "closer to meeting our emissions reduction commitment made under the Paris Climate Agreement," Johanna Chao Kreilick, president of the Union of Concerned Scientists, said in a written statement.