Biden Makes Pitch to Rust Belt Workers as a Challenge to Trump
(Bloomberg) -- Joe Biden launched his presidential campaign with an appeal to Rust Belt workers who helped Donald Trump squeeze out victories in Pennsylvania and the upper Midwest, telling an audience in Pittsburgh Monday that they hold the key to the White House in 2020.
Biden's kickoff rally for his campaign for the Democratic nomination was held in Pittsburgh in an attempt to highlight what his team sees as an edge he'd have over other Democrats in a match-up against Trump.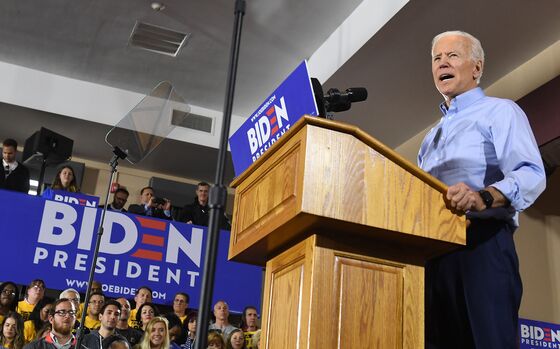 "I make no apologies. I am a union man," Biden told the crowd at the Teamsters Local 249's hall. "The country wasn't built by Wall Street bankers, by CEOs or by hedge fund managers. It was built by you, the middle class."
The former vice president said he chose western Pennsylvania for his rally because, "If I'm going to be able to beat Donald Trump in 2020, it's going to happen here."
Biden focused on a central element of his bid for the Democratic presidential nomination and the White House: rebuilding and expanding the U.S. middle class. It was a shift in tone from his launch video last week, in which he warned that Trump's re-election would "forever and fundamentally alter the character of this nation" with divisive rhetoric on race and antagonism of key U.S. allies.
"Donald Trump is the only president who decided not to represent the whole country," Biden said. "We need a president who works for all Americans."
He appeared to buck fellow Democratic candidate Bernie Sanders' Medicare for All proposal, which has been backed by several other party contenders. Instead of making Medicare-like coverage universal, Biden said he'd favor Americans having "the choice to buy in to a public option for Medicare."
Biden said it's "well past time" to raise the federal minimum wage to $15 an hour. He called for ending some tax breaks for multimillionaires to fund higher education, and he said employers shouldn't be allowed to classify low-wage workers as managers to avoid paying them overtime.
The former vice president spoke at Teamsters Local 249's hall. While that union is not yet endorsing any candidate, there have been clear signs of organized labor support for Biden, including an endorsement Monday from the International Association of Fire Fighters.
Democrats "can't have a nominee that is too far left," union president Harold Schaitberger told the crowd at Monday's rally. "There's no question that the candidate who can win, the candidate who can and will be our next president, is Joe Biden."
Trump seized on the union's endorsement Monday with an effort to divide union members from their leaders. "I'll never get the support of Dues Crazy union leadership, those people who rip-off their membership with ridiculously high dues, medical and other expenses while being paid a fortune," he tweeted. "But the members love Trump. They look at our record economy, tax & reg cuts, military etc. WIN!"
Biden responded with a defense of unions, tweeting barely an hour after Trump: "I'm sick of this President badmouthing unions. Labor built the middle class in this country. Minimum wage, overtime pay, the 40-hour week: they exist for all of us because unions fought for those rights. We need a President who honors them and their work."
Trump's attention to Biden -- four tweets on Monday morning -- reflects the president's concern that the former longtime Delaware senator could be the Democrat who poses the biggest threat to his chances for a second term. Trump lost the national popular vote, and his electoral college victory hinged on narrow wins in Pennsylvania, Michigan and Wisconsin, states that had all gone for Barack Obama in 2008 and 2012 and where Biden is seen as strong.
State and national polls have generally shown Biden, 76, leading, with Vermont Senator Sanders, 77, in second and the rest of the field far behind. The two men are the only major candidates who've run for president before and have high levels of name recognition to match.
Still, many Democrats aren't yet ready to commit to them or any other candidate.
An ABC News/Washington Post poll, released Sunday and conducted mostly before Biden announced, found that a third of Democrats and Democratic-leaning independents were undecided on the party's nominee. Of those who named a candidate 13 percent said they support Biden. Another 9 percent said they back Sanders, 5 percent favor South Bend, Indiana, Mayor Pete Buttigieg, and 4 percent each named Senators Kamala Harris and Elizabeth Warren in the open-ended poll.
In a Morning Call/Muhlenberg College poll of Pennsylvania Democrats conducted in early April, Biden led the field with 28 percent, followed by Sanders at 16 percent, Harris and Warren at 8 percent and the rest of the field behind them.
Biden's next stop this week will be in Iowa, where he plans to spend two days campaigning. But he'll be back in Pennsylvania on May 18 for a big rally in Philadelphia, situated between his birthplace in Scranton and his longtime home near Wilmington, Delaware.
Also on Monday, ABC released excerpts of an interview in which Biden said he takes "responsibility" for the treatment of Anita Hill during during Clarence Thomas's tumultuous Supreme Court confirmation hearing in 1991. Biden, who oversaw the hearing as chairman of the Senate Judiciary Committee, has been criticized for allowing Republican attacks on Hill, who had accused Thomas of sexually harassing her when he was her boss.
"I believed her from the very beginning, but I was chairman," Biden said in an interview set to air Tuesday on ABC's "Good Morning America." He added, "She did not get a fair hearing. She did not get treated well. That's my responsibility."
Biden had been criticized for not taking personal responsibility in an apology he offered in an interview Friday with ABC's "The View."