EV Metal Demand Is Driving Bidding War for a Junior Canadian Lithium Miner
(Bloomberg) -- A bidding war for Millennial Lithium Corp. is picking up after Lithium Americas Corp. offered to buy its Canadian counterpart for about $400 million during the frenzy for a metal that's crucial to powering electric vehicles.
Millennial shareholders are being offered C$4.70 a share payable in Lithium Americas stock and C$0.001 cash, according to a statement Monday by the Vancouver-based acquirer. The proposal comes a month after the world's largest battery maker, China's Contemporary Amperex Technology Co Ltd., agreed to buy Millennial for C$3.85 a share in a deal valued at C$377 million.
The Lithium Americas offer marks the third takeover proposal since July for Vancouver-based Millennial, which has lithium assets in Argentina. The interest comes as prices for the silvery metal surge alongside a broad commodities rally, while a global push for more clean-energy sources brightening demand for the metal. Companies along the electric-vehicle supply chain have joined the race to secure supplies of the key component for EV rechargeable batteries, ranging from battery makers' long-term contracts with producers to other miners buying up lithium assets.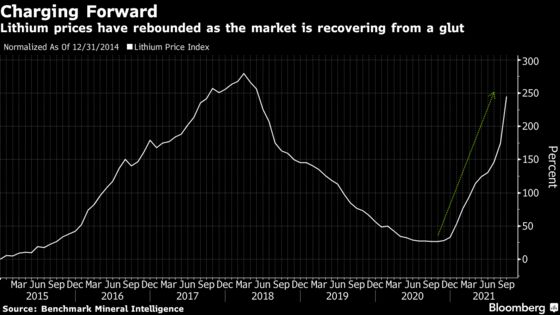 Lithium Americas' offer represents a 27% premium to Millennial's Oct. 29 closing price of C$3.70 a share on the Toronto Stock Exchange. Millennial's board of directors unanimously determined that Lithium America's offer is a superior proposal to CATL, which has been given 10 days to match the offer, the company said.
Millennial's stock soared 27% to C$4.69 at 12:31 p.m. trading in Toronto. The stock is up 82% this year. Shares in Lithium Americas fell 1.5% to C$35.37.
CATL in September had outbid Chinese lithium giant Ganfeng Lithium Co.'s C$353 million July offer for Millennial, prompting Ganfeng to withdraw its bid.